UK recorded music revenue up 12.8% to £1.262 billion following 2020's slowdown
Label revenues hit highest value since inclusion of public performance and sync figures in 2006; though they remains hundreds of millions below the industry's peak when adjusted for inflation
2021 growth driven by 13.7% increase in streaming revenues to £837.2 million
Physical formats growing at faster rate of 14.6%; vinyl approaches half of physical revenues, while CD income rises for first time in four years
BPI CEO Geoff Taylor calls on music community to join together to continue growing the market as most effective way to maximise the success of music creators & the ecosystem that supports them
Table 1:  UK Recorded Music Revenue 2018 – 2021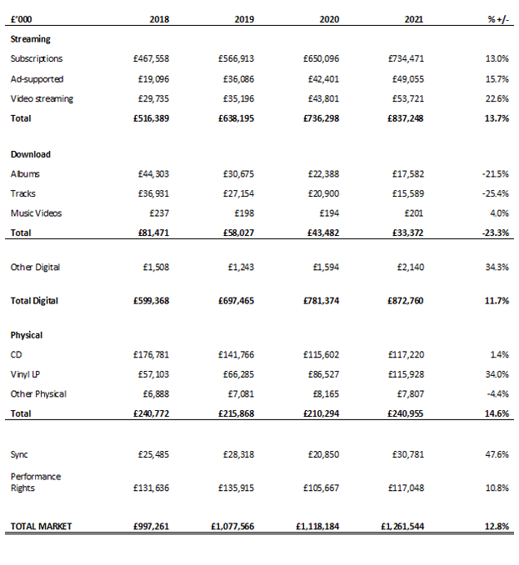 UK recorded music revenues (M) 2012 – 2021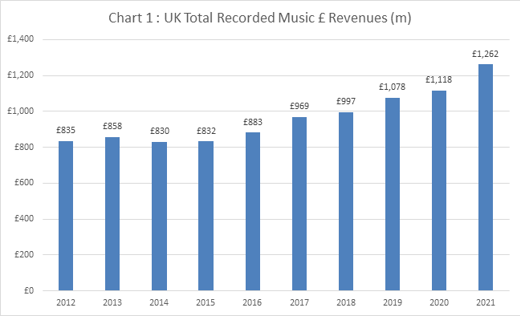 Market share breakdown by revenue stream 2010 – 2021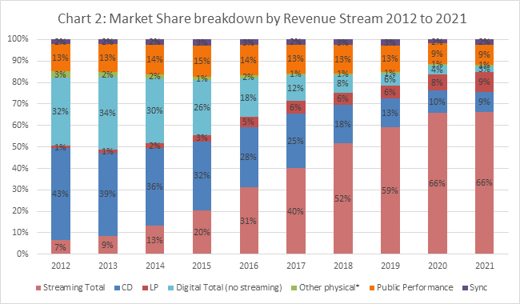 UK recorded music revenue up 12.8% to £1.262 billion following 2020's slowdown
Label revenues hit highest value since inclusion of public performance and sync figures in 2006; though they remains hundreds of millions below the industry's peak when adjusted for inflation
2021 growth driven by 13.7% increase in streaming revenues to £837.2 million
Physical formats growing at faster rate of 14.6%; vinyl approaches half of physical revenues, while CD income rises for first time in four years
BPI CEO Geoff Taylor calls on music community to join together to continue growing the market as most effective way to maximise the success of music creators & the ecosystem that supports them
Table 1:  UK Recorded Music Revenue 2018 – 2021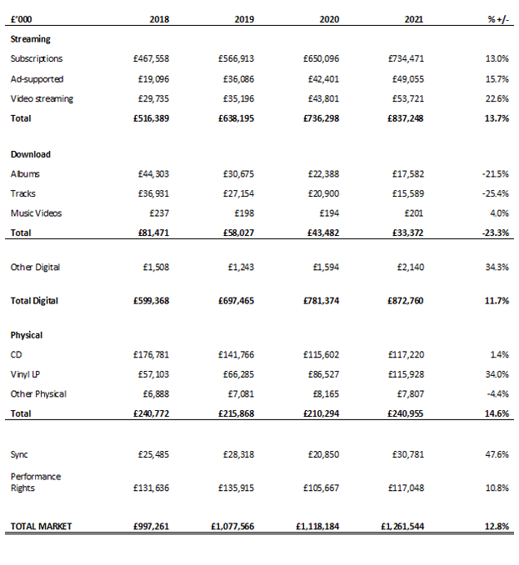 UK recorded music revenues (M) 2012 – 2021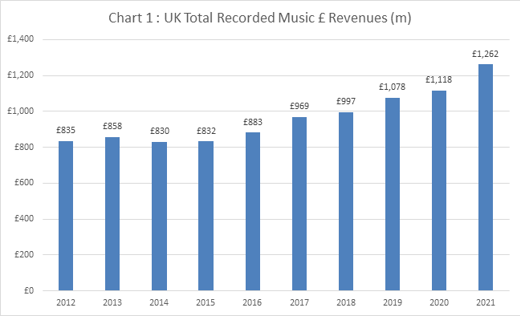 Market share breakdown by revenue stream 2010 – 2021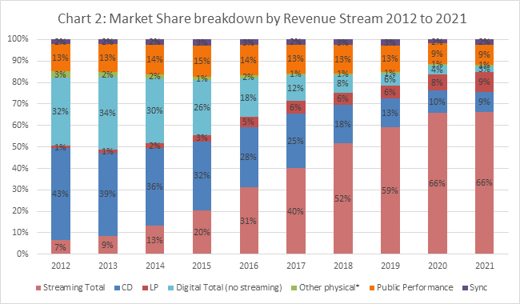 The BPI, the association of independent and major record labels, today reports that UK recorded music revenue1 rose by 12.8% in 2021 to reach £1.262 billion.
This marked the sector's seventh consecutive year of revenue growth, led by streaming.  However, when adjusted for inflation, revenue in 2021 was £368 million below the 2006 CPI-adjusted figure of £1.63 billion, while using RPI the 2006 figure would have been £1.795 billion – £534 million higher than the 2021 total.
Revenue from streaming again fuelled much of the rise, up 13.7% to £837.2 million, with physical formats on CD and vinyl growing at a faster rate, also contributing – up by 14.6% to £241 million.  See Notes for more details. These figures coincided with an increase in the number of indie record shops, recently reported by the Entertainment Retailers Association (ERA), which grew went from 390 in 2020 to 407 in 2021. 
Geoff Taylor, Chief Executive BPI, BRIT Awards & Mercury Prize, said:  "The UK music market's return to growth has been driven by streaming – especially streaming subscriptions, which grew by 13% last year and made up 88% of streaming revenues and 58% of total revenues.  After a tough few years we are also pleased to see growth across the sector, including in physical formats, sync, performance rights and beyond. This growth yields important benefits for the broader music community, including greater remuneration to a wider base of artists and additional investment by labels in new talent. It is important to remember that even today we still have yet to fully recover from years of decline and that, in real terms, we remain a much smaller industry than 15 years ago. We urge the music community to join together to continue growing the market, for example by helping British music secure the largest possible share of streaming growth abroad.  That will be an effective way to maximise the success of British music creators and the ecosystem that supports them."
Notes to Editors
Streaming & digital revenue
Revenue of £837.2 million (up 13.7%) from streaming was shaped largely by paid subscriptions to streaming services (such as Spotify, Apple, Amazon and Deezer). This rose by 13% to £734.5 million.  Ad-funded streaming income grew by 15.7% to £49.1 million. Income from video streaming platforms, notably YouTube, showed some growth, up by over a fifth (22.6%) to £53.7 million – but is still well under half the amount generated by vinyl. Revenue from digital downloads continues to decline as substitution accelerates towards streaming. It fell by 23.3% in 2021, with downloaded tracks and albums generating just £33.4 million for labels.
Revenues from physical formats: vinyl, CD & cassette
While vinyl continues its amazing revival story, up 34% on the year, the gold star arguably goes to Compact Disc, which, off the back of superstar releases by ABBA, Adele, Dave and Ed Sheeran, contributed £117.2 million in revenue – a 1.4% rise on the year and the first increase since 2017. It means that CD still generates marginally more than vinyl for record labels and their artists, though this may change in 2022. Within the physical total, other formats such as cassette accounted for a fraction of the overall revenue total, but the format is keenly purchased by some collectors and its significance lies in pointing to the wide choice now available to fans in terms of how they can discover, collect and enjoy the music they love.
Revenues from 'Sync' and Performance Rights
Sync – music used in film and other soundtracks and in advertising – has been an area of revenue growth for labels in recent years up until the pandemic in 2020. This has shown signs of a healthy recovery in 2021, yielding £30.8 million (47.6%). Income from performance rights from music played in public remains substantial at £117 million, up by 10.8% on the previous 12 months.
UK artists benefit from label investment to help drive growth
As recent BRIT Awards have shown, a new wave of talent is breaking through, supported by their teams and labels.  Names such as Little Simz, Becky Hill, Joy Crookes, Arlo Parks, Sam Fender, The Lathums, Glass Animals, KSI and 2022 BRIT Rising Star Holly Humberstone are fast becoming known on the world stage. In 2021 they helped to drive streams and sales alongside returning global stars such as Adele, Ed Sheeran, Dave and ABBA. See Notes for 2021 Official Charts.
1 Record label revenues comprise income generated through streaming, purchases across physical and download formats, public performance rights, and 'sync' – music licensed for use in film & TV, games soundtracks and advertising. The BPI figures are based on a survey of its label members, with Official Charts Company share data used to account for non BPI label members. They are verified against data collected by the IFPI.
The growth is in line with the trend of recent years and is the highest annual amount since the introduction of sync and public performance revenue in 2006', when the trade incomeas £1,232m (excluding PPL & sync 2001 is the highest year on record). Record company earnings from public performance rights are generated by the broadcast and public performance of recorded music – the figures presented represent income collected on behalf of producers (i.e. record labels and not artists). 
BPI Music consumption figures for 2021 here.
Chart 1 – OFFICIAL ARTIST ALBUMS CHART 2021 – © Official Charts Company 
Pos, Artist, Title
Adele – 30
Ed Sheeran – =
ABBA – Voyage
Olivia Rodrigo – Sour
Queen – Greatest Hits
Dua Lipa – Future Nostalgia
Ed Sheeran – Divide
Elton John – Diamonds
Fleetwood Mac – 50 Years: Don't Stop
Dave – We're All Alone In This Together
Chart 2 – OFFICIAL SINGLES CHART 2021 – © Official Charts Company
Pos, Artist, Title
Ed Sheeran – Bad Habits
Olivia Rodrigo – Good 4 U
Olivia Rodrigo – Drivers License
The Weeknd – Save Your Tears
Lil Nas X – Montero (Call Me By Your Name)
Dua Lipa – Levitating
The Kid Laroi & Justin Bieber – Stay
Glass Animals – Heat Waves
The Weeknd – Blinding Lights
Tion Wayne & Russ Millions – Body
Chart 3 – OFFICIAL VINYL ARTIST ALBUMS CHART 2021 – © Official Charts Company
Pos, Artist, Title    
ABBA – Voyage
Adele – 30
Fleetwood Mac – Rumours
Ed Sheeran – =
Amy Winehouse – Back To Black
Nirvana – Nevermind
Queen – Greatest Hits
Lana Del Rey – Chemtrails Over The Country Club
Wolf Alice – Blue Weekend
Harry Styles – Fine Line
Chart 4 – OFFICIAL CHARTS MOST STREAMED AUDIO TRACKS 2021 – © Official Charts Company
Pos, Artist, Title
Ed Sheeran – Bad Habits
Olivia Rodrigo – Good 4 U
Olivia Rodrigo – Drivers License
Lil Nas X – Montero (Call Me By Your Name)
The Weeknd – Save Your Tears
Dua Lipa – Levitating
Glass Animals – Heat Waves
The Kid Laroi & Justin Bieber – Stay
Tion Wayne & Russ Millions – Body
The Weeknd - Blinding Lights