Streaming has pushed the value of the UK's music sales and streams overseas to over half a billion pounds for the first time since records began, according to new figures released by the BPI, the UK's independent and major record labels association.
The statistics reveal that the consumption of British music worldwide, which continues to rise, driven by the dynamic growth of music streaming, generated £519.7 million in export earnings in 2020 – an increase of 6% on 2019 and the highest figure recorded since 2000, when the BPI began its annual survey of record label overseas income.  See Notes for Chart of UK Recorded Music Overseas Label Income from 2000 – 2020.
The UK is the largest exporter of music in the world after the USA, and around 1 in 10 of all tracks streamed globally are now by a British artist.  A BPI report earlier this year, All Around The World1, found that with the right support, including a continuation of the successful Music Export Growth Scheme2 that has benefitted SME independent companies and their artists, annual UK music exports could reach £1 billion by 2030.
The growth in music exports has been powered by British artists and labels successfully harnessing the global reach of streaming, with 300 British artists already achieving more than 100 million streams annually. Indeed, more than 500 UK artists now achieve 50 million streams per year or more, part of a rapidly expanding cohort of British talent for whom streaming is already generating a significant annual income, even before taking into account earnings from physical and digital sales, TV/radio, brand partnerships and, in normal times, live performances.
Major artists who have broken through in recent years such as Dua Lipa, Harry Styles, Lewis Capaldi, Stormzy, Little Mix and The 1975 have made a huge impression across the world, whilst more-established superstar artists who have been leading the way, such as Ed Sheeran, Adele, Coldplay, Sam Smith and Calvin Harris, continue to post impressive streaming and sales figures internationally.  The global popularity of British classic artists such as The Beatles, Queen, Pink Floyd and The Rolling Stones similarly remains undimmed.
Building on this strong heritage, the UK recorded music industry continues to discover and develop, and promote and invest in a diverse array of vibrant new music talent.  Independent and major label artist rosters are consistently growing and now also include a new wave of rap, hip hop and R'n'B/soul and dance artists such as Dave, Mabel, Jorja Smith, Headie One, J Hus, AJ Tracey, Aitch, D-Block Europe, Joel Corry, Gerry Cinnamon and Jax Jones, to name just a few, that are adding greater depth and breadth to the UK's global appeal and profile.
Geoff Taylor, Chief Executive BPI & BRIT Awards, said:
"The explosive growth of music streaming around the world represents an unprecedented opportunity for British music. With global competition intensifying, now is the time to push hard, to actively promote our artists to a global audience and maximise our share of global growth, with artists such as Dua Lipa, Harry Styles, Lewis Capaldi, Stormzy, The 1975 and Mabel, among many others, now leading the way alongside the likes of Ed Sheeran Adele, Coldplay and Arctic Monkeys.
"As the UK builds back from Covid-19 and forges its future as an independent trading nation, music can play a pivotal cultural and economic role. We call on Government to seize the moment and make music a champion of our global trading ambitions."
The UK cannot be complacent, however.  Despite this record growth in overseas revenues, the UK's overall share of global music revenue is slipping within a hugely competitive global marketplace. The UK currently accounts for around 10% of the global total, down from a peak of 17% in 2015.  Similarly, while the UK's 6% growth in exports in 2020 is encouraging, overall the global music market grew more quickly (8.2%, IFPI).  While some of this may be down to the impact of the Covid-19 pandemic and the fact that artists have been unable to perform live, it emphasises the fact that the UK must work harder than ever before to market its music to the rest of the world and retain its share of an expanding global market.
The BPI therefore repeats its call on the Government to strike a new strategic partnership with the music industry to seize the exceptional opportunity presented by rapidly growing music exports fuelled by streaming, so that, as we build back after Covid, the full economic and cultural potential of British music can be unleashed.
In particular, the UK Government should:
Double the successful Music Export Growth Scheme grant support, which generates a 12-1 return, and invest in international showcases and events that will help to promote British artists to the world;
Ensure that a Cultural Exports / International Office provides effective targeted support to the commercial music sector, in particular to help navigate new administrative requirements following the UK's departure from the EU, as well as facilitating cultural collaboration.
Introduce a music production tax credit to encourage new investment into creating new recordings in the UK, boosting the generation of UK IP, jobs and skills;
Prioritise agreements with the EU and third countries to enable artists and crews to tour and promote their music as easily as possible, and to make the UK easily accessible for global talent looking to visit the UK to record and perform;
Raise standards of copyright protection and enforcement in key export markets through trade negotiations, rejecting any watering down of UK copyright in deals.
Notes to Editors 
Strong growth from streaming and vinyl, as the British public turned to music during the lockdowns, has more than offset the impact of the pandemic.
BPI analysis also reports that UK recorded music revenue rose by 3.8% in 2020 to reach £1.118 billion. This is the highest total since 2006 (£1.17bn) and the fifth consecutive year of growth, although the rate of revenue growth slowed in 2020 (compared with the 7.3% rise in 2019), due to the effects of the pandemic.
Revenues from streaming fuelled much of the rise, growing 15.4% to £736.5m, even as the pandemic slowed overall growth.
Physical revenues decreased only marginally by 2.6% to £210.3m – helped by the response of retailers and their loyal customers who moved their purchasing online during the lockdowns. Climbing revenues from vinyl, boosted by online campaigns, increased by nearly a third (30.5%) to £86.5m – the highest total since 1989. This helped to cushion reduced CD sales income, which, though still resilient, fell by 18.5%.
Chart 1 UK Recorded Music Overseas Label Income £m 2000 – 2020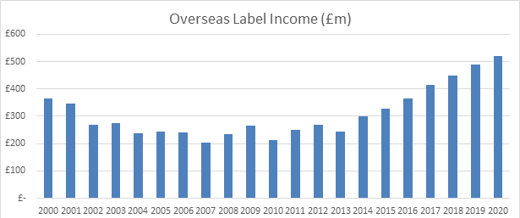 1 All Around The World report here: link
2 About the Music Export Growth Scheme (MEGS)
The BPI-administered scheme is funded by the Department for International Trade working in partnership with the Exporting is GREAT campaign.  It is designed to boost British music exports by supporting small to medium sized music companies as they look to build on the potential of their artists in overseas markets. Many smaller to medium-sized music labels, distributors and management companies, often independently owned, achieve success when launching their artists in the UK. But their limited resources means it can be a real challenge for them to replicate this success internationally.  This, in turn, creates the risk that significant commercial opportunities may be missed, not just for these companies and their artists, but ultimately for the wider UK economy through lost exports.  The Music Export Growth Scheme was created to help address this issue, offering small and medium-sized music companies with the potential to achieve increased international success the opportunity to apply for grants ranging from £5,000 to £50,000 that will support their marketing overseas and the promotion of specific artist releases.
Now in its seventh year since its launch in 2014, MEGS has awarded over £4 million in support of 282 diverse British music projects across a variety of genres including pop, rock, grime, jazz, folk, electronic, and classical. Some of the acts who have received MEGS funding include Mercury Prize winners Wolf Alice and Young Fathers, BRIT Award winners and Welsh indie rock band Catfish and the Bottlemen, jazz saxophonist YolanDa Brown, grime artist Ghetts, and the London Symphony Orchestra. Forty per cent of the funding awarded by MEGS has gone to female music acts or acts featuring female artists in their line-up, while nearly a quarter (24%) went to artists who are Black, Asian and Minority Ethnic. This funding has helped artists from across the UK to travel to countries in Europe, America, Asia and Australia. To date there has been a return of £12 for every £1 invested through the Music Export Growth Scheme. More details including eligibility and how MEGS works can be found here.