"We have made history in bringing this collection together and the significance and value of music video in British film history is now assured"
– Professor Emily Caston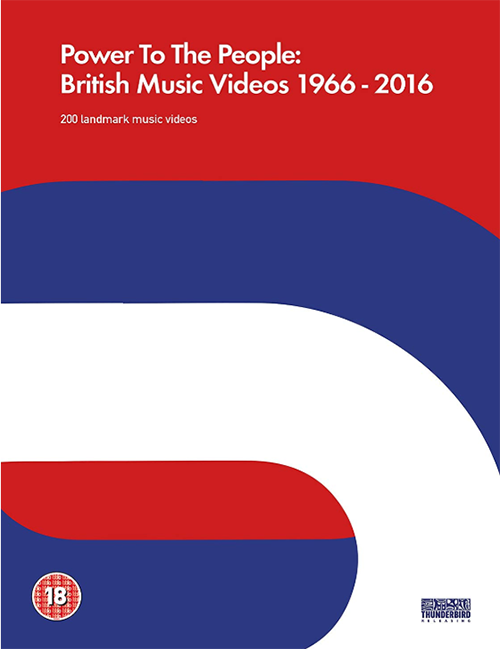 The pivotal contribution that British music videos have made to the creative industries and film history of the UK may be obvious but until recently, there's been a clear gap in terms of how this has been studied, documented or formally recognised. Although groundbreaking creative innovations have taken place across the genre, there has been a lack of in-depth exploration of British music video history.
However, all this has changed with the recent release of Power to the People: British Music Videos 1966-2016, a special edition DVD boxset collection containing over 200 landmark British music videos.
Representing the culmination of a three-year research project which set out to understand and document the acclaimed and innovative work of the British music video industry from its origins in the 1960s through to the MTV and YouTube eras, the project highlighted the cultural value and historic importance of music video as a commercial art form and discrete audio-visual practice.
The research was led by Professor Emily Caston of the University of West London, in conjunction with Professor Justin Smith of De Montford University (funded by the Arts and Humanities Research Council). Caston has previously been involved in the music video industry as an award winning producer who has worked with acclaimed directors such as Spike Jonze and Chris Cunningham and artists including Madonna, Bjork, Oasis, The Chemical Brothers and U2. The project was a collaborative one between academia and key industry professionals, along with partners including the BFI, British Library, British Council, Warp Records, Thunderbird Releasing and Video Performance Ltd.
To decide on the final selection of music videos, the project brought together an industry panel of over one hundred directors, producers, cinematographers, editors, choreographers, colourists and video commissioners, including Aoife McArdle, Jake Nava, Dougal Wilson, Dawn Shadforth, Fran Broadhurst, Tony Kearns, Max & Dania, John Stewart, Cynthia Lole, Mike O'Keefe, Carrie Sutton, Dougal Wilson, John Hassay, Liz Kessler and WIZ. From an initial long list of one thousand titles, a final selection of 200 videos was chosen, all produced in Britain between the years 1966 and 2016. Each video was selected because it represented a landmark in music video history - a new genre, film technique, post-production method, distribution channel, or other landmark.
The Special Edition DVD boxset of Power to the People: British Music Videos 1966-2016 contains six discs of videos curated by Professor Emily Caston in genres and themes, along with a booklet containing an introductory essay and production credits for the 200 videos. It includes influential and breakthrough videos by artists such as The Who, The Rolling Stones, Ultravox, George Michael, Oasis, So Solid Crew, Radiohead, Bjork, Tricky, Wiley and FKA Twigs.
One of the most important results from the research project has been the creation of a 'British Landmark Video' collection at the British Film Institute (BFI), meaning that the history of British Music Video will be part of a leading national archive and accessible to the general public. These are being digitised and catalogued at the BFI to form a new national collection which will be launched later in 2018.
A new digital collection of music videos commissioned by Warp Records has also been created at the British Library Sound Archives to accompany the existing collection of their audio recordings there and to stimulate and enable further research. Video Production have also donated a record of all music videos issued a licence in the UK for broadcast since their records began, a database now held at both the British Library and the British Film Institute.
The release of Power to the People: British Music Videos 1966-2016, in partnership with Thunderbird Releasing, means that this pivotal selection of landmark British music videos will be widely available for research and teaching. It has been designed as a teaching tool for HE and FE courses related to music video within film and television studies, popular music studies and cultural studies, and remains the only box set of its kind.
"We have made history in bringing this collection together and the significance and value of music video in British film history is now assured"
– Professor Emily Caston