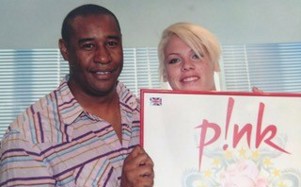 Mervyn with P!nk, who he worked alongside during his time at Sony Music.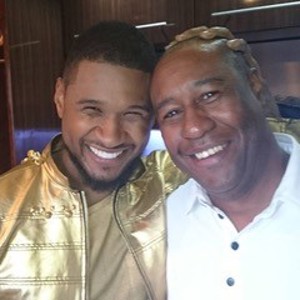 Mervyn with Usher, who he also worked alongside at Sony Music.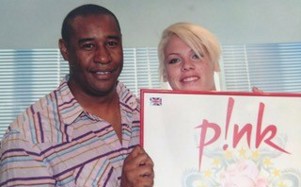 Mervyn with P!nk, who he worked alongside during his time at Sony Music.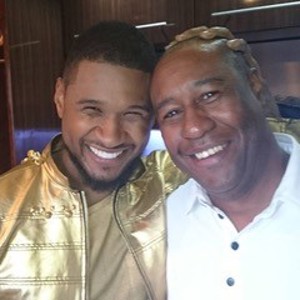 Mervyn with Usher, who he also worked alongside at Sony Music.
The first in a series of interviews getting to know members of our Equality & Justice Advisory Group, we speak to music industry exec Mervyn Lyn. 
Mervyn's early years
Mervyn is one of four brothers and came to the UK in 1967 aged five to join his parents, who had travelled ahead to find work and settle in the UK. He was raised by his mother up until the age of two then his Grandmother took the reins while his mother also travelled to The UK.  Mervyn vividly remembers arriving at Heathrow on a B.O.A.C flight and being met by his mother and father, who met for the first time.  The family settled in Edmonton, North London, which is where Mervyn grew up.
Developing a passion for music
Music was a big influence in family life from very early on. Mervyn's elder brother was particularly enthusiastic and passed this on to Mervyn.  In his teens Mervyn really got into music and started building an extensive record collection.  He would take LPs to parties and gradually developed a taste for DJing – building up a following and reputation that soon saw him host ticketed events and first start earning a living as a Club DJ.  It wasn't long before he was performing as the resident DJ at celebrated north London venues like The Pink Elephant in Southgate which was previously The Royalty which itself became a famous jazz funk venue that DJs like Froggy, Chris Hill, Jeff Young and Pete Tong were regular guests. 
Embarking on a music career
Mervyn's dad wanted him to have the job security of a "trade", however, so he duly enrolled for a City & Guilds in Engineering.  But this only served to reinforce Mervyn's love of music, and on graduating he decided that the music business was the only career for him.  He continued DJing in London clubs like The Bass Clef in Hoxton, but began working in music retail at Harum Records – in what was to prove a fruitful combination and an early pointer to the power of music promotion – where Mervyn played his favourite R'n'B records in clubs and in the process created the demand to sell in store.
Blues & Soul
Building all this knowledge allowed Mervyn to start getting pieces in Blues & Soul magazine, and it wasn't long before he was invited to join the publication to write reviews and sell ad space.  The role allowed him to travel and visit clubs around the UK, such as The Hacienda in Manchester, in the process building up his industry knowledge and an early network of contacts.
A Virgin experience that turned into a Sleeping Bag
After three years at the publication, in 1985 Mervyn came to the attention of Virgin Records, who offered him the role of Club Promotions Manager. Mervyn soon found himself working with artists such as Soul II Soul, Loose Ends, Maxi Priest and Mantronix amongst others. After a few years Mervyn found himself heading the European office of US label Sleeping Bag Records, with a fantastic roster of artists like Todd Terry, Joyce Simms and EPMD.  The recessionary economic climate that shook the late 80's saw Sleeping Bag like many boutique New York labels go under and Mervyn had to find pastures new.
The Motown experience
At the start of the 90s Mervyn was given the opportunity to resume his career working with iconic record label Motown – licensed at the time by BMG Records, and home to superstar artists including Stevie Wonder, Lionel Richie (returning to the world with his album Back To Front) and Boys II Men.  Based in their Berkeley Square London head office, and reporting to David Munns, Mervyn particularly worked marketing Boys II Men to make them a huge hit in the UK and globally. He oversaw and launched the repackaging of their debut US album and remixing of their first single Motownphilly and the worldwide smash hit End Of The Road, which went on to top the charts in 16 countries. Mervyn also worked with iconic artists such as The Temptations and making them contemporary again with remixes and the hit single The Jones, which was later sampled by DJ Jazzy Jeff & The Fresh Prince's Summer Time. He was recruited to focus on Motown's frontline roster which was perhaps not the overall objective from the licensors.
Back to BMG
In 1993 Motown was sold to Polygram (later to become Universal Music), and Mervyn was asked to return to Arista BMG to oversee new imprint labels, Rowdy and Bad Boy Records as well as the R&B repertoire from Arista US and LaFace Records. Whilst there Mervyn successfully set up the first ever street team in the UK to promote Puff Daddy, TLC, Usher and other R&B, rap and hip-hop acts coming out of the US.  His success as a ground-breaking music marketer saw him promoted to the new role of BMG's Head of R&B, which saw him overseeing product manager, marketing and press functions across all BMG repertoire including RCA and Loud Records.  It was at this time that Mervyn came into contact with Ged Doherty and Richard Griffiths, who he previously reported to at Virgin Records in the 80s. This resulted in a further elevation which now saw him heading marketing for R&B in Europe, with the key remit of breaking US acts across the UK and Europe.  One of the priority artists was Alicia Keys, with whom Mervyn developed a close working relationship.
Europe beckons
A few years into the new millennium, in 2004, BMG merged with Sony Music to create Sony BMG, and Mervyn became VP Marketing for Europe, now responsible for overseeing the marketing and promotion of the whole priority artist roster including superstar rock acts such as Kings of Leon.  
Sony entertains
In 2008 Sony acquired BMG, and Ged Doherty, now joined by Rob Stringer, decided they needed Mervyn back in the UK, making him the VP of Marketing in the new-look Sony Entertainment UK. 
But things could have been so different for Mervyn: around the same time, he had an opportunity to take up a role in the US as SVP of Atlantic International, which could have been a wonderful move for family reasons, but bureaucracy got in the way.  As it was, Mervyn flourished at Sony, working with artists such as John Legend, P!nk and Outkast as well as previous favourites Alicia Keys and Usher. Mervyn introduced innovative marketing techniques, such as a red-carpet premiere for Usher's Confessions mini movie and used it as a media spring board to launch John Legend in The UK. He commissioned remixes of Ordinary People which was the breakthrough needed to break John on UK radio. This success saw Mervyn move onto Sony label RCA working under Craig Logan (formerly of Bros) as RCA Head of A&R and Business Development. 
Once again Mervyn excelled and, now working across the whole Sony group as VP of Strategic Partnerships, he revealed his ground-breaking instincts yet again, this time developing brand relationships for RCA, Columbia and, working with Simon Cowell's X Factor in-house label Syco.  Such partnership are now a standard part of the modern music world, but at the time they were pioneering.  It saw partnerships such as Kasabian and the official England football kit and Alexandra Burke with Sure for Women products.
Striking out on his own
By 2012 Mervyn felt that he had the experience, knowledge and ambition to set out on his own, creating Strategic Partnership Solutions – a company that he continues to steer to this day.  Mervyn began working with major brands looking to engage their customers through their love of music.  Among the most notable of these was Mastercard, for whom Mervyn helped to develop their music strategy including their now long running and award-winning Priceless campaign.
Mervyn the person
When asked what quality perhaps best characterises him, Mervyn is unequivocal – always giving people a chance and encouraging talent. He can cite examples of individuals in assistant and receptionist roles who went on to major industry positions thanks to the career break that he gave them. Encouraging, for example, a certain June Sarpong, who began as his PA, into a career as a celebrated media presenter and now social commentator and equality campaigner.
Another quality is building and valuing relationships, including outside of music, to achieve greater goals. One such relationship is with current Shadow Justice Secretary David Lammy, and it was through the Labour MP that Mervyn was able to stage a memorable showcase and launch event and press conference for Alicia Keys – the first ever of its kind – inside The House of Commons. An event, also attended by Tottenham schoolgirls as well as key media, that generated huge PR and once again demonstrated Mervyn's capacity to be original, push boundaries and to 'think outside of the box'.
Drawing on the power of music to do good
Music 4 Good
Mervyn has always championed the underdog, and so he helped to develop Music 4 Good – to give new starters a way into the music industry through a paid internship, backed up by training and masterclass events. The initiative, which also sought to challenge stereotypes and break down barriers, has brought him into contact with policy makers and politicians including former Prime Minister David Cameron, who was looking for a fresh approach and understanding following his "Hug A Hoodie" misstep.   
The BRIT Trust
Mervyn's charitable work had actually begun earlier at the start of the Noughties, when he became a Trustee – its first Black representative – for BRITs-funded music industry charity The BRIT Trust.
Speakers for Schools
Mervyn also recognises the vital importance of education and connecting with young people, and so often speaks at schools including through The Speakers for Schools programme.
Nordoff Robbins
Mervyn knows only too well through his own family experience the power of music therapy – with his own daughter having benefitted through the charity's programme at The BRIT School.  It prompted Mervyn to give an emotionally-laden speech as the special guest at Nordoff-Robbins' annual Silver Clef Luncheon.  It was a powerful moment that resonated with everyone in the room, and which drew him further into the orbit of the UK's leading independent music therapy provider, eventually becoming a Trustee in January 2021.
Arms Around The Child & Bobbi Bear
Another cause that means a great deal to Mervyn is Arms Around The Child, a charity born out of Keep A Child Alive set up by global superstar Alicia Keys, which describes itself as a "global charity building a better and kinder environment for children living in extreme adversity, orphaned, abandoned, at risk of child abuse – sexual or otherwise, trafficked or living in child-headed households".
Another Africa-based charity supported by Arms Around The Child is Bobbi Bear, which is a human rights organisation committed to helping sexually abused children in Amanzimtoti, Kwa Zulu Natal, South Africa.
56 Black Men and Black British Network
Mervyn is also hugely committed to promoting equality and social justice within the music industry and more widely across society.
In 56 Black Men Mervyn supports the organisations' mission to put Black men at the forefront of their own conversation, and to address the negative portrayal of Black men in the media.  Likewise through British Black Network Mervyn has signed up to committing his time and resource to help drive targeted, systemic change focused on the Black community in the UK.
AP Foundation
Mervyn is chair of trustees for The AP Foundation https://apfoundation.co.uk/trustees whose mandate is to rehabilitate ex-offenders through education, interaction and engagement with peer mentors and creative internships. The charity was set up by former Genesis (the highly successful rave organisation) founder Andrew Pritchard, himself an ex-offender and made notorious through the Donal McIntyre documentary Cocaine & Coconuts. Andrew spent time in Belmarsh and while there created a successful program to end gang violence within the establishment which was endorsed by the prison governor and rolled out to a number of other prisons.  Following release Andrew began to redress his negative impact on his community and began to make amends.
Midi Music Company
The Midi Music Company is a leading community music engagement operation based in Deptford, South East London. Its founder and the driving force is Wozzy Brewster OBE. Mervyn serves as Music Ambassador for the organisation, making sure they are well represented and championed in high level conversations around opportunity, inclusion and diversity within the music industry.
UK Music Diversity Taskforce
UK Music is the centralised trade body for the whole business of music in the UK. The Diversity Taskforce is their sub group who have been the driving force in the creation and implementation of a Ten Point Plan. The Ten Point Plan is a treaty between the various branches of the industry to ensure there is a collective and driven agenda to tackle diversity, and inclusion at every level within the industry.
The BRIT Awards and the BPI Equality and Justice Advisory Group
In 2016 the biggest night in British music, The BRIT Awards, attracted criticism for insufficiently recognising British Black music and artists in its nominations – leading to a #BRITsSoWhite campaign on social media.  Ged Doherty, Chair of the BPI, which owns and runs the awards, responded by forming the BRITs Diversity Advisory Group, inviting Mervyn, who he knew well as a former trusted lieutenant at BMG and Sony, to be one of its founding members. The group gave crucial advice and input which helped to rebalance the BRITs Voting Academy into a more diverse body – equalising the gender balance and bringing representation of Black, Asian and Minority Ethnic music industry executives to around a quarter of the Academy.  The results arguably speak for themselves, with artists such as Skepta, Stormzy, Jorja Smith, Dave and Celeste featuring as just some of the Black performers and winners over recent years.  
Following the tumultuous global events of April 2020 in the wake of the death of George Floyd, including Black Out Tuesday, the BRITs Diversity Advisory Group was reconstituted as the BPI's Equality and Justice Group.
EJAG is a diverse/intersectional and independent board of respected music industry professionals, who collectively advocate for the progression of the Equality, Diversity and Intersectional agenda across the sector and contribute to steering the BPI's Equality, Diversity and Intersectional work for its members, award shows, events and The BRIT Trust. The purpose of the group is to work collaboratively and progressively, to advocate and push for positive (intersectional) change and representation across the sector, with an initial focus on race and gender, for the benefit of the music industry and its current and future workforce at all levels
Mervyn is a valued member of EJAG, providing wisdom and perspective as well as vital networking contacts that help the group in its mission.
Based on an interview recorded with the BPI on 25th March 2021