Dame Vera Lynn leads the accolades alongside Hans Zimmer and Tokio Myers
Sheridan Smith, Michael Ball & Alfie Boe, Alexander Armstrong receive 2 nominations each
New generation recognised - Tina Guo, Sheku Kanneh-Mason, Beatrice Rana, Ayoub Sisters and Tokio Myers
New 'Soundtrack Of The Year' category announced including 'The Greatest Showman'
13th June, The Royal Albert Hall – 15th edition of the Show – Broadcast exclusively on ITV, in partnership with Classic FM, Apple Music and Royal Albert Hall
Hosts Myleene Klass and Alexander Armstrong present a spectacular evening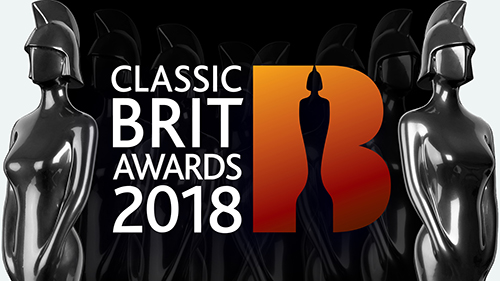 ""The nominations for this year's Classic BRIT Awards have captured the essence of classic music in all its exciting and diverse forms. From operatic traditions to contemporary classical and from film and games soundtracks to musicals, all forms of classic music and the artists that bring it to life will be celebrated at this year's awards. I am also thrilled that British music legend Dame Vera Lynn is honoured as our Lifetime Achievement Award recipient."
- Geoff Taylor, Chief Executive BPI & BRIT Awards
Dame Vera Lynn leads the accolades alongside Hans Zimmer and Tokio Myers
Sheridan Smith, Michael Ball & Alfie Boe, Alexander Armstrong receive 2 nominations each
New generation recognised - Tina Guo, Sheku Kanneh-Mason, Beatrice Rana, Ayoub Sisters and Tokio Myers
New 'Soundtrack Of The Year' category announced including 'The Greatest Showman'
13th June, The Royal Albert Hall – 15th edition of the Show – Broadcast exclusively on ITV, in partnership with Classic FM, Apple Music and Royal Albert Hall
Hosts Myleene Klass and Alexander Armstrong present a spectacular evening
The Classic BRIT Awards 2018 announces nominations for this year, with a new category and recognition for a phenomenally diverse range of incredible artists. 101 year old Dame Vera Lynn leads the accolades with two nominations to add to her Lifetime Achievement Award.
There are multiple nominations for actress and musical theatre star Sheridan Smith after a stunning year, as well as Michael Ball and Alfie Boe, who sold over a million copies of their two blockbuster albums 'Together' and 'Together Again'.
Classic BRIT Awards co-host Alexander Armstrong also receives two nominations and The Greatest Showman, one of the biggest albums on the planet right now, receives recognition in the brand new 'Soundtrack Of the Year' category.
Tina Guo represents the new wave of classical artists finding younger audiences via soundtracks and video games and is nominated for Female Artist Of The Year.   Last year, she released an album of video game music – 'Game On!' - establishing her as the pre-eminent force in a growing genre.
Hans Zimmer, perhaps the Classic BRIT Awards' most-listened to nominee, garners 3 nominations in the new 'Soundtrack Of The Year' category for his work on BBC series 'Blue Planet II' (alongside Jacob Shea and David Fleming), and blockbuster films 'Blade Runner 2049' (alongside Benjamin Wallfisch) and the extraordinary 'Dunkirk'. The score received praise for its use of the 'Shepard Tone' that Zimmer describes as a 'musical trick' used to create ever-increasing intensity.  
The category also includes the phenomenon that is the soundtrack to 'The Greatest Showman' movie (the UK's biggest selling album of 2018 so far).  The album has spent an astonishing 14 weeks at Number 1 on the UK Official Charts – the joint longest run at Number 1 in 30 years, tied with Adele's '21'.
Olafur Arnalds' score for hit ITV show 'Broadchurch – The Final Chapter', completes the category, recognising a hugely popular genre where the public hears incredible, newly composed music.
Geoff Taylor, Chief Executive BPI & BRIT Awards, said:
"The nominations for this year's Classic BRIT Awards have captured the essence of classic music in all its exciting and diverse forms.  From operatic traditions to contemporary classical and from film and games soundtracks to musicals, all forms of classic music and the artists that bring it to life will be celebrated at this year's awards.  I am also thrilled that British music legend Dame Vera Lynn is honoured as our Lifetime Achievement Award recipient."
Elsewhere, the nominations continue the theme of extraordinary and varied talent.
With Tina Guo, the Female Artist Of The Year category boasts Dame Vera Lynn, a national treasure whose album 'Vera Lynn 100' became the biggest selling album released by a woman in 2017.  They are joined by 24 year old classical pianist and phenomenon Beatrice Rana, opera legend Renée Fleming and Sheridan Smith.
In the Male Artist Of The Year category, opera's leading man, tenor Jonas Kaufmann brings the classical star quality, alongside modern composer Max Richter, famous for his own work on screen and stage alongside his acclaimed recordings. Our Classic BRITs host Alexander Armstrong is nominated, a renaissance talent, if ever there was one as host of popular daytime TV quiz 'Pointless, a celebrated comedian and classically trained baritone with 2 top 10 albums to his name.
Completing the category are two young men with the world at their feet, both educated at state schools, illustrating a new accessibility for classical music.  Tokio Myers is a supremely talented musician who won Britain's Got Talent 2017 with his musical mash-ups incorporating classical music elements.  After his reworking of 'Jerusalem' for the Official Commonwealth Games anthem last month, he will also be awarded the Classic BRITS Breakthrough Artist Of The Year Award.
Sheku Kanneh-Mason is a 19 year old cellist whose debut album 'Inspiration' broke into the Top 20 in the Official UK Album Chart and was also No.1 in the Classical Chart, applying for the job as the classical sensation of a new generation. His covers of Bob Marley and Leonard Cohen sit alongside Shostakovich's Cello Concerto No.1 on the record, illustrating his diverse musical taste. 
Group Of The Year sees young Scots, the Ayoub Sisters competing against Michael Ball & Alfie Boe, whose recent partnership has cemented them as among Britain's most popular entertainers.  Sensations 2CELLOS join the category alongside Jools Holland & Jose Feliciano's album collaboration 'As You See Me Now'.
The latter receive a further nomination for Classic FM Album Of the Year, the award voted for by listeners of Classic FM.  The worldwide best-seller Andre Rieu is also a strong contender for that category, alongside more nominations for Dame Vera Lynn, Michael Ball & Alfie Boe, Tokio Myers, Alexander Armstrong, Sheridan Smith and Sheku Kanneh-Mason among others. 
Sam Jackson, Classic FM's managing editor, said: "We're delighted to be partnering with the Classic BRITs once again, and to host the voting for the Classic FM Album of the Year. With 5.7 million listeners, Classic FM is the UK's biggest classical music radio station, and we're looking forward to reflecting all the excitement ahead of what's set to be a great night."
The Classic BRIT Awards returns for 2018 for the first time in 5 years – reformatted and refreshed, exclusively broadcast on ITV and in partnership with Classic FM – to celebrate the growing appeal of classical and music from film, television, theatre and games.
Hosted by musicians and presenters Myleene Klass and Alexander Armstrong, performers announced so far include the incredible Andrea Bocelli, Britain's favourite duo Michael Ball & Alfie Boe, opera legend Sir Bryn Terfel and pianist Tokio Myers.
Showcasing the best and brightest of incredible new British talent, the Classic BRIT Awards' Sound Of Classical Poll is looking for classical artists aged 13-30 and tipped for a great future. The winner will be chosen by an expert panel and revealed at the ceremony in June.  
The winner will receive £1000 toward their music tuition or equipment and 4 tickets to the Classic BRIT Awards ceremony at the Royal Albert Hall on June 13th. Enter at www.classicbrits.co.uk.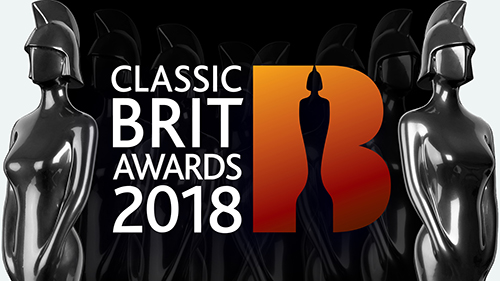 ""The nominations for this year's Classic BRIT Awards have captured the essence of classic music in all its exciting and diverse forms. From operatic traditions to contemporary classical and from film and games soundtracks to musicals, all forms of classic music and the artists that bring it to life will be celebrated at this year's awards. I am also thrilled that British music legend Dame Vera Lynn is honoured as our Lifetime Achievement Award recipient."
- Geoff Taylor, Chief Executive BPI & BRIT Awards