The BPI, the representative voice for independent labels and major record companies across the UK, today reports that UK recorded music revenue1 rose by 4.7% year-on-year to reach £1.32 billion for the full-year 2022.
This figure, which also includes revenues from synchronisation (sync) and public performance2, represents          an eighth consecutive year of growth and is up by 36% on the £968.6 million reported in 2017.  This is the highest nominal annual amount on record, though, when adjusted for inflation, the figure falls hundreds of millions of pounds below the total reported in 20063 – the first year which includes sync and public performance.  
Growth in 2022 was again fuelled by climbing streaming revenues, which rose 6.3% year-on-year to £885 million and which now account for 67.2% of industry revenue – up from 66.2% in 2021. The rate of streaming growth and record label investment in A&R and marketing is enabling a great many more artists to succeed through music.
Over the 12 months, overall revenue from the consumption of music on physical formats fell 10.5% to            £215.7 million, with rising revenue of £119.5 million from the purchase of albums on vinyl up 3.1% helping to offset a 23.7% drop in CD revenue to £89.5 million.  Vinyl now accounts for more than half (55%) of the revenue derived from music on physical formats, and the BPI can officially confirm that in 2022 vinyl generated more trade revenue than CD for the first time since 1987.
Sophie Jones, BPI Chief Strategy Officer and Interim CEO, said: "The hard work and creativity of UK artists and labels meant that 2022 was another great year for British music, but we must guard against any complacency in the face of growing challenges and keep promoting and protecting the value of music. That's why labels continue to innovate and invest in new talent and areas to connect more artists and fans while driving additional revenues. The UK environment has always enabled recorded music to thrive, something we must safeguard, but now we need the music community to unite and create the impetus for further growth so that we can build on an already strong foundation to futureproof the success of British music in an increasingly competitive global music market."
Streaming & digital revenue
Streaming revenue of £885 million (up 6.3%) was shaped largely by paid subscriptions to services such as Amazon, Apple, Spotify and YouTube, rising by 4.8% to £762.8 million (up from £727.6m in 2021). Ad-funded streaming income, though worth less than a tenth of the value of subscriptions, none-the-less grew by over a fifth in 2022 (22.3%) to £62.5 million (up from £51.1m). Revenue from digital downloads continues to decline as consumption accelerates its shift towards streaming – falling by 17.5% (less than the 23.2% drop in 2021), with downloaded tracks and albums still generating £27.6 million.
The year's most-streamed track was Harry Styles' As It Was (Song of the Year at the 2023 BRITs), followed by Ed Sheeran's Bad Habits (who also had Shivers in the top 5), Glass Animals' Heat Waves, which topped the US charts, and Go by former BRIT School student turned pop sensation Cat Burns.
Revenues from physical formats: vinyl, CD & cassette
The BPI reported in January4 that the purchase of albums on vinyl grew for a 15th consecutive year in 2022, and this translated into trade revenues of £119.5 million, up 3.1% on the year.  The biggest-selling albums on the format were led by Taylor Swift's Midnights, Harry Styles' Harry's House (which picked up the 2023 BRIT Award for Mastercard Album of the Year) and The Car by Arctic Monkeys.
Vinyl's continuing popularity, boosted by events including Record Store Day and National Album Day, meant that revenue from the sale of LPs, which now makes up 55% of earnings from physical formats, overtook the amount generated by CD (£89.5m) for the first time since 1987.  Cassette sales weighed in with over half a million pounds to trade revenues, with the biggest sellers Arctic Monkeys' The Car, Harry Styles' Harry's House, Florence + The Machine's Dance Fever, Muse's Will Of The People, and 23 by Central Cee.
Revenues from Synchronisation and Performance Rights
Synchronisation or 'sync' – the music used in film, TV, gaming and other soundtracks and in advertising – has been an area of growth for artists and labels in recent years, promoted by international trade events such as the BPI's annual Sync Mission to Los Angeles. Disrupted by the pandemic in the preceding period, revenue increased by 39% in 2022 to reach £42.7 million.  Income from the public performance of music, which was similarly impacted by the Covid hiatus, also showed encouraging growth, up 23% in 2022 to stand at £143.4 million.
UK artists benefit from label investment to help drive growth
In January4 the BPI reported that British artists, led by global superstars Harry Styles and Ed Sheeran, claimed a historic clean sweep of the top-10 songs of 2022, according to the Official Charts Company. Further evidence of the fruits of record label A&R and marketing investment was showcased by the recent BRIT Awards with Mastercard and the 2022 Mercury Prize and by the success of UK artists in around the world.  One example is Wet Leg, who won two BRIT Awards and two Grammy Awards for their self-titled debut. Similarly, we've seen marked success from Little Simz, Glass Animals, Becky Hill, Cat Burns, Central Cee, PinkPantheress, Yungblud and Sam Ryder, to name just a few. These developments point to an exciting next generation of diverse talent that is breaking through with label support in ever larger waves from all parts of the UK.
Notes to Editors
1 Record label revenues comprise income generated through streaming, purchases across physical and download formats, public performance rights, and 'sync' – music licensed for use in film & TV, games soundtracks and advertising. The BPI figures are based on a survey of its label members, with Official Charts Company share data used to account for non BPI label members. They are verified against data collected by the IFPI.
2 The growth is in line with the trend of recent years and is the highest annual amount that includes sync and public performance revenue since 2006, when the trade incomeas £1,166m (excluding PPL & sync 2001 was previous highest year on record at £1,232m). Record company earnings from public performance rights are generated by the broadcast and public performance of recorded music – the figures presented represent income collected on behalf of producers (i.e. record labels and not artists). 
3 Adjusted for CPI, UK trade revenue in 2022 was £443 million below the figure of £1.76 billion where the industry should have been in real terms since 2006, while using RPI it would have been £688 million higher at £2.00 billion.
4 BPI Music consumption figures for 2022 here.
Table 1:  UK Recorded Music Revenue 2021 – 2022 (in millions)
| | | | | |
| --- | --- | --- | --- | --- |
|   |   | Full Year 2021 | Full Year 2022 | % +/- |
| Physical Formats | CD | £117m | £89m | -23.7% |
|   | LP | £116m | £119m | 3.1% |
|   | Other Physical* | £7.8m | £6.8m | -13.2% |
|   | TOTAL | £241m | £216m | -10.5% |
|   |   |   |   |   |
| Online | Tracks | £16m | £13m | -15.1% |
|   | Albums | £18m | £14m | -20.8% |
|   | Music video | £0.2m | £0.2m | -5.8% |
|   | TOTAL | £34m | £28m | -17.5% |
|   |   |   |   |   |
| Streaming | Subscriptions | £728m | £763m | 4.8% |
|   | Ad supported - Audio | £51m | £63m | 22.3% |
|   | Video | £53m | £59m | 11.2% |
|   | TOTAL | £832m | £885m | 6.3% |
|   |   |   |   |   |
| Other Digital  |   | £2.1m | £1.6m | -26.9% |
|   |   |   |   |   |
| Total Digital |   | £868m | £914m | 5.3% |
|   |   |   |   |   |
| Physical & Digital | TOTAL | £1,109m | £1,130m | 1.9% |
|   |   |   |   |   |
|   | Sync Income | £31m | £43m | 38.8% |
|   | Public Performance | £117m | £143m | 22.6% |
|   | MARKET TOTAL (Inc. SYNC & PPL) | £1,256m | £1,316m | 4.7% |
*Other physical = Singles, Music DVDs, Cassettes & other physical formats
UK recorded music revenues (M) 2012– 2022
Market share breakdown by revenue stream 2012 – 2022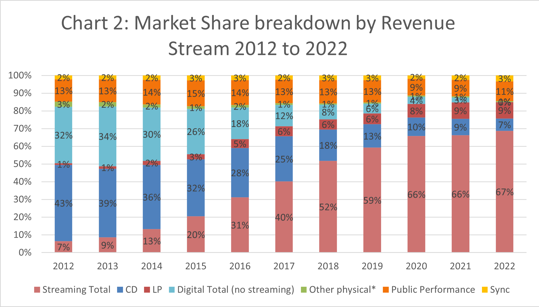 Chart 1 – OFFICIAL ARTIST ALBUMS CHART 2022 – © Official Charts Company – view Top 40 biggest albums 2022
Harry Styles – Harry's House
Ed Sheeran – =
Taylor Swift – Midnights
The Weeknd – The Highlights
Olivia Rodrigo – Sour
Eminem – Curtain Call – The Hits
Elton John – Diamonds
Fleetwood Mac – 50 Years – Don't Stop
Little Mix – Between Us
ABBA – Gold – Greatest Hits
Chart 2 – OFFICIAL SINGLES CHART 2022 – © Official Charts Company – view  Top 40 biggest singles 2022
Harry Styles – As It Was
Ed Sheeran – Bad Habits
Fireboy DML & Ed Sheeran – Peru
Cat Burns – Go
Ed Sheeran – Shivers
Kate Bush – Running Up That Hill
Glass Animals – Heat Waves
Lost Frequencies & Calum Scott – Where Are You Now
LF System – Afraid To Feel
Sam Fender – Seventeen Going Under
Chart 3 – OFFICIAL VINYL ARTIST ALBUMS CHART 2022 – © Official Charts Company – view Top 40 vinyl of 2022
Taylor Swift – Midnights
Harry Styles – Harry's House
Arctic Monkeys – The Car
Liam Gallagher – C'mon You Know
Fleetwood Mac – Rumours
Wet Leg – Wet Leg
The 1975 – Being Funny In A Foreign Language
Arctic Monkeys – AM
Fontaines D.C. – Skinty Fia
Muse – Will Of The People
Chart 4 – OFFICIAL CASSETTE ARTIST ALBUMS CHART 2022 – © Official Charts Company – view Top 40 cassettes 2022
Arctic Monkeys – The Car
Harry Styles – Harry's House
Florence + The Machine – Dance Fever
Muse – Will Of The People
Central Cee– 23
Robbie Williams – XXV
5 Second Of Summer – 5SOS5
Blackpink – Born Pink
The 1975 – Being Funny In A Foreign Language
Machine Gun Kelly – Mainstream Sell-out
Chart 5 – OFFICIAL CHARTS MOST STREAMED AUDIO TRACKS 2022 – © Official Charts Company
Harry Styles – As It Was
Ed Sheeran – Bad Habits
Glass Animals – Heat Waves
Cat Burns – Go
Ed Sheeran – Shivers
Fireboy DML & Ed Sheeran – Peru
Kate Bush – Running Up That Hill
LF System – Afraid To Feel
Lost Frequencies & Calum Scott – Where Are You Now
Dave - Starlight