The Classic BRIT Awards return for 2018 in partnership with ITV & Classic FM - 13th June, The Royal Albert Hall – 15th edition of the show
First performers announced as some of music's biggest stars come together for a night of celebration:
Andrea Bocelli, Michael Ball & Alfie Boe, Sir Bryn Terfel, Tokio Myers & many more to be announced
Dame Vera Lynn will be the recipient of this year's Lifetime Achievement Award 
New Sound Of Classical Poll to champion emerging new artists
Hosts Myleene Klass and Alexander Armstrong present a spectacular evening exclusively broadcast on ITV
Celebrating Music from the world of classical, film, television, theatre and games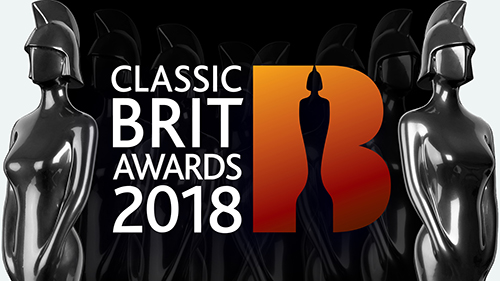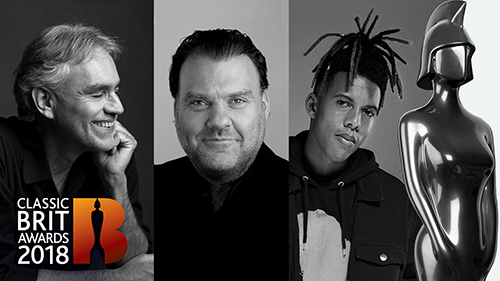 "We want to celebrate outstanding British music in all its forms, so I am thrilled that we can announce the return of The Classic BRITs to its home at the Royal Albert Hall in partnership with ITV and Classic FM. The Awards are coming back with a new format that will not only honour outstanding classical artists and exceptional new talent, but will pay tribute to classic music from a wide range of genres."
Geoff Taylor, Chief Executive BPI & BRIT Awards
The Classic BRIT Awards return for 2018 in partnership with ITV & Classic FM - 13th June, The Royal Albert Hall – 15th edition of the show
First performers announced as some of music's biggest stars come together for a night of celebration:
Andrea Bocelli, Michael Ball & Alfie Boe, Sir Bryn Terfel, Tokio Myers & many more to be announced
Dame Vera Lynn will be the recipient of this year's Lifetime Achievement Award 
New Sound Of Classical Poll to champion emerging new artists
Hosts Myleene Klass and Alexander Armstrong present a spectacular evening exclusively broadcast on ITV
Celebrating Music from the world of classical, film, television, theatre and games
The Classic BRIT Awards returns for 2018 for the first time in 5 years – reformatted and refreshed, exclusively broadcast on ITV and in partnership with Classic FM – to celebrate the growing appeal of classical and music from film, television, theatre and games.
These musical genres are now enjoyed in more ways than ever before and 2018's Awards will pay tribute to the brightest and the best, celebrate our classic legends and look firmly to the future.
Announced today for the show on June 13th at the Royal Albert Hall are hosts Myleene Klass and Alexander Armstrong.  Both are presenters on Classic FM and musicians in their own right and this will be Myleene's 7th Classic BRIT Awards. 
Alexander is welcomed for the first time and is also one of the genre's most popular acts with 2 top 10 albums to his name.  Apple Music is the official music service for this year's awards.
The first performers for the Royal Albert Hall event are also announced today, proving that this music gives rise to global stars, national treasures and exciting new talent.
Andrea Bocelli is Classic BRIT Awards' royalty. The biggest selling classical artist of all time, he has performed for four U.S. presidents, two popes and the Royal Family, as well as at ceremonies for the Olympic Games and the World Cup.  Known for opera and global crossover hits including 'Time To Say Goodbye', he recently scored a worldwide Number 1 with Ed Sheeran on the song 'Perfect Symphony' and has a very special performance in mind for this year's ceremony.
Michael Ball & Alfie Boe are two great modern voices who came 'Together' for 2016's best-selling album in the UK, achieving the Christmas Number 1 record.  In 2017, their second album 'Together Again' went straight to Number 1 and two sold out arena tours cemented their position as two of Britain's best loved entertainers and pushed their record sales over 1 million within a year.
The Classic BRIT Awards will welcome back one of our great classical music performers. Welsh bass-baritone Sir Bryn Terfel is a regular star of the world's most prestigious concert stages and opera houses, including the Royal Opera House, Covent Garden; the Metropolitan Opera, New York; Opéra National de Paris; Teatro Alla Scala and Zürich Opera. A Grammy, Classic BRIT and Gramophone Award winner, Sir Bryn received a knighthood for his services to music in 2017.
Tokio Myers is part of a new vanguard of classically trained artists, a supremely talented musician who won Britain's Got Talent 2017 with his musical mash-ups incorporating classical music elements.  State school educated and trained at the Royal College of Music, he is proof that this music is open to everyone.
The UK Music Industry is proud to announce that Dame Vera Lynn will be the recipient of this year's Lifetime Achievement Award at the Classic BRIT Awards. 
National treasure and original "Forces' Sweetheart", Dame Vera, who this week celebrates her 101st birthday, was one of the biggest-selling female artists of last year after releasing her latest album 'Vera 100' which charted at No.3. Dame Vera continues to make music history by being the only recording artist in the world to span the charts since they began to the present day! The singer famously boosted the nation's morale during the darkest days of World War II, and has been honoured countless times for her services to entertainment and charity. Her latest accolade came in the Queen's 2016 birthday honours list when she was made a Member of the Order of the Companions of Honour – the first person from the field of popular entertainment to do so. Over the decades, Vera Lynn's popularity has never waned and she remains perhaps the most beloved of all British female vocalists.
The future is very much on the Classic BRIT Awards' agenda with the launch of The Sound Of Classical poll to promote the best emerging artists and ones-to-watch in classical music. Aged 30 or under and tipped for a great future, the winner will be chosen by an expert panel and revealed at the ceremony in June.  
The first entrant is Jess Gillam, 19 years old and from Cumbria, who made music history as the first saxophonist to win the Woodwind Final of BBC Young Musician of the Year in 2016.  She is already becoming recognised as an international ambassador for her instrument – exploding the audience's understanding of what a saxophone can do.
"I'm so thrilled to be part of the Sound of Classical Poll," says Jess, "The saxophone is such a versatile and expressive instrument and is not recognised as widely as other instruments in the classical world so it's a real honour to be a part of such a fantastic event. To give a platform for young artists to show their talent to a wider audience is a great idea and I hope it inspires more young musicians."
Entries are open from today until May 20th. Find more information at classicbrits.co.uk .
From concert halls to video games, film soundtracks to radio and from festivals to TV ads, classical music has never been heard in as many ways as it is now.  Since the last Classic BRIT Awards in 2013, digital technology and streaming have transformed how people engage with classical music, making the genre a welcome part of everyday life.  That change is now accelerating.
Whether it is Michael Ball & Alfie Boe's eye-catching sales, or 18 year old Nottingham cellist Sheku Kanneh-Mason taking his critically acclaimed debut into the top 20 of the pop charts, this music is scoring success after success.
As radio media partner, Classic FM will be promoting The Classic BRIT Awards to its 5.7 million weekly listeners on-air, on ClassicFM.com and on social media, with exclusive artist performances and video interviews recorded backstage. From 9am on the day of the awards show, Classic FM will broadcast live from the Royal Albert Hall, giving listeners unrivalled access to this spectacular classical music event.
Geoff Taylor, Chief Executive BPI & BRIT Awards, said: "We want to celebrate outstanding British music in all its forms, so I am thrilled that we can announce the return of The Classic BRITs to its home at the Royal Albert Hall in partnership with ITV and Classic FM. The Awards are coming back with a new format that will not only honour outstanding classical artists and exceptional new talent, but will pay tribute to classic music from a wide range of genres.
"Classic music is fast-growing its reach on streaming services and on radio, with exciting new stars such as Sheku and Tokio Myers bringing in new fans. It is the perfect time to be relaunching the Classic BRITs to celebrate the contribution this wonderful music makes to our lives."
Myleene Klass said: "I am incredibly excited and honoured to have been invited to host the Classical Brits again. Classical music is my world. I can't remember a time when it wasn't in my life. It's wonderful to see this genre of music getting the platform it deserves and important the new generation of artists coming up through the ranks are represented too alongside the more established artists we all know and love."
Alexander Armstrong says, "It is wonderful to host the Classic BRIT Awards and celebrate such an amazing array of talent, with so many people watching at home.  This is music that people love and I know our enthusiasm will come through loud and clear."
Classic Facts:
The Official Charts Company reports that classical music streams have risen 52% in the first 2 months of 2018 alone, surpassing 10 million streams every week except one.
Classic FM, the UK's most popular classical station has 5.7 million people tuning in every week and over 500,000 of those listeners are aged 25 and under, a 43% increase year-on-year. More than a million listeners are under-35. Classic FM also has more than 2 million social media followers and, in 2018, has a higher level of social media engagement than any other UK radio brand.
The Royal Philharmonic Orchestra recently reported that 62% of British adults want to broaden their music horizons, with 22% wanting to learn more about orchestral music, beating folk, rock and jazz as the top genre. The age group most likely to want to learn about classical music was the under 25s.
Apple Music reports that a quarter of its subscribers listen to the genre.
Video game soundtracks have also become an important route to classical music for younger listeners.  Classic FM's most streamed show ever championed music from video games, with its popular series 'High Score'. Figures like leading film composer Hans Zimmer have become famous with a new generation of fans, Zimmer having written the soundtrack to hit game 'Call of Duty'.  Game soundtracks are performed by famous orchestras, including the London Symphony Orchestra, who recorded the music for 'Final Fantasy XV' at the legendary Abbey Road studios in London, now the 'go-to' location for many other ambitious projects.
Sam Jackson, Classic FM's Managing Editor, said: "The Classic BRITs shares our mission to make classical music relevant to everyone, so we're excited that this celebration of world-class talent is back. As the UK's most popular classical music station, Classic FM is the perfect partner for the prestigious event and, with more than half a million listeners aged 25 and under tuning in each week, we're continuing our vision to champion new talent through The Sound of Classical poll. The Classic BRITs comes at a very exciting time for classical music in the UK with growing and younger audiences. It's set to be a fantastic night!" 
The glittering ceremony will take place on June 13th at the Royal Albert Hall, London with a night packed full of some the greatest musicians in the world.  Hosted by Myleene Klass and Alexander Armstrong, it will be broadcast later that week on ITV.
Tickets for The Classic BRIT Awards 2018 go on sale Wednesday 21st March at 9.00am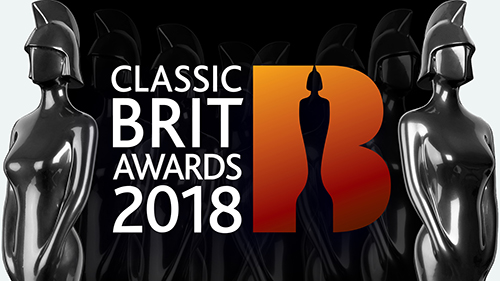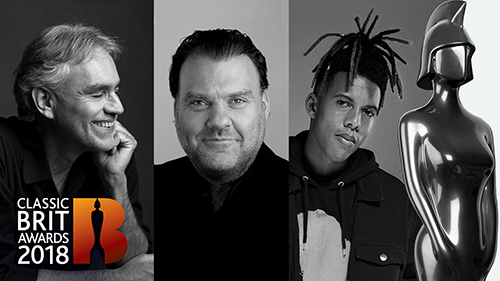 "We want to celebrate outstanding British music in all its forms, so I am thrilled that we can announce the return of The Classic BRITs to its home at the Royal Albert Hall in partnership with ITV and Classic FM. The Awards are coming back with a new format that will not only honour outstanding classical artists and exceptional new talent, but will pay tribute to classic music from a wide range of genres."
Geoff Taylor, Chief Executive BPI & BRIT Awards