BPI's Rob Crutchley analyses the trends in collaborations in popular music.
Learn more about the latest trends in the British recorded music industry in 'All About The Music 2019'.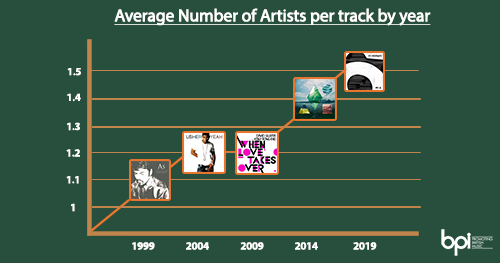 BPI's Rob Crutchley analyses the trends in collaborations in popular music.
Learn more about the latest trends in the British recorded music industry in 'All About The Music 2019'.
Performers appearing together on a song is something of a pop music staple, although what it means to listeners may well depend on their ages. Some might fondly cast their minds back to Elton John and Kiki Dee light-heartedly mugging for the camera in 1976, while others with even longer memories might recall Frank and Nancy Sinatra teaming up for Somethin' Stupid a decade or so earlier. Pop history is littered with memorable instances, from The Pogues and Kirsty MacColl to Run DMC and Aerosmith. But the tradition is alive today too, with Ed Sheeran's most recent album anchored entirely around the concept of collaboration and a new track featuring Ariana Grande, Miley Cyrus and Lana Del Rey aiming for the top of the Official Singles Chart at the time of writing.
More than one artist being credited on a track does seem to be something that is becoming more commonplace. BPI analysis of the top 250 singles in the first half of 2019 found that, on average, there were 1.5 artists credited on each track. That number has grown over time, too: in the first half of 1999 it was 1.1 artists, and in 2009 it was 1.2. Although it could be argued that 20 years ago there were more groups in the singles chart, there were plenty of solo performers – Britney Spears, Shania Twain, Robbie Williams – who appeared as the sole credited artist.
So what might be the reasons behind the increase in this spirit of collaboration? One could be the rise of streaming and the effect on music consumption it has had. Music fans are now able to access a wider selection than ever before, and it is – potentially – easier for artists to reach a broader audience geographically. Collaborations between international artists can serve as a great introduction to new audiences, both in terms of new territories and exposure to fans who might be more invested in other genres. It's often more organic than that, however – artists will simply profess fandom for their contemporaries, and mutual admiration then acts as the impetus to making something happen.
The way that music is now made could also be another factor. Technological advances have meant that artists no longer have to be in the same room to create music together – they can exchange ideas in real time despite being on opposite sides of the earth. Both composition and recording are no longer as affected by geographical restraints. The rise of the producer-artist (such as Calvin Harris and DJ Khaled) is also tied in with this – often they will act as the central fulcrum for a project, bringing in different artists to work together.
There's the recent popularity of soundtracks to consider – multi-credited songs are among the most popular in hit films like The Greatest Showman, A Star Is Born and Mamma Mia! Here We Go Again, for example. It's interesting to muse on how all of the above factors might mean that we, as listeners, are now simply more attuned to – or maybe even expectant of – hearing songs featuring more than one voice (even though, admittedly, many collaborations feature non-singing artists).
Tracks featuring two artists are still by far the most common of all the collaborative hits – they comprised over three quarters of multi-artist tracks in the sample from 2019. In total, 40% of the 250 tracks were credited to more than one performer, with artists such as Sam Smith, Bastille, Jax Jones and Chvrches among them. Coming together to forge something new is clearly a more common occurrence, and we can undoubtedly look forward to more in the future.