The genre now accounts for well over a fifth of all UK singles consumption – a six-fold increase on 1999
Tracks by S1mba, AJ Tracey, Dave and Headie One each racked up over 50 million plays in the UK in 2020
These Rap stars along with Bugzy Malone, M Huncho and Young T & Bugsey are among a new, young wave of British talent who achieved over 100 million UK streams across their catalogues last year
New data published ahead of the BPI's "All About the Music" 2021 yearbook, out 15th April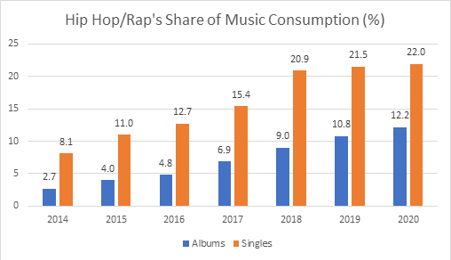 Chart 1: 2020 Official Top 10 UK Rap & Hip Hop singles © Official Charts Company
Stormzy/Ed Sheeran/Burna Boy Own It
S1mba ft. DTG Rover
Aitch / AJ Tracey / Tay Keith Rain
AJ Tracey ft Mostack Dinner Guest
Young T & Bugsey ft. Headie One Don't Rush
Headie One /AJ Tracey / Stormzy Ain't It Different
Dave ft. Burna Boy Location
AJ Tracey Ladbroke Grove
Tion Wayne / Dutchavelli / Stormzy I Dunno
Stormzy Vossi Bop
Chart 2: 2020 Official Top 10 UK Rap & Hip Hop albums   © Official Charts Company
Stormzy Heavy Is The Head
J Hus Big Conspiracy
Dave Psychodrama
KSI Dissimulation
D-Block Europe PTSD
M Huncho Huncholini the 1st
D-Block Europe Street Trauma
AJ Tracey AJ Tracey
J Hus Common Sense
Nines Crabs In A Bucket
Chart 3: 2020 Official Top 5 Rap & Hip Hop singles © Official Charts Company
Saint Jhn Roses
Stormzy/Ed Sheeran/Burna Boy Own It
Roddy Ricch The Box
Doja Cat Say So
S1mba ft. DTG Rover
Chart 4: 2020 Official Top 5 Rap & Hip Hop albums © Official Charts Company
Stormzy Heavy Is The Head
Pop Smoke Shoot For The Stars, Aim For The Moon
Eminem Music To Be Murdered By
Post Malone Hollywood's Bleeding
Juice Wrld Legends Never Die
The genre now accounts for well over a fifth of all UK singles consumption – a six-fold increase on 1999
Tracks by S1mba, AJ Tracey, Dave and Headie One each racked up over 50 million plays in the UK in 2020
These Rap stars along with Bugzy Malone, M Huncho and Young T & Bugsey are among a new, young wave of British talent who achieved over 100 million UK streams across their catalogues last year
New data published ahead of the BPI's "All About the Music" 2021 yearbook, out 15th April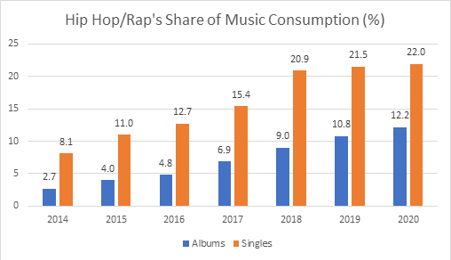 Chart 1: 2020 Official Top 10 UK Rap & Hip Hop singles © Official Charts Company
Stormzy/Ed Sheeran/Burna Boy Own It
S1mba ft. DTG Rover
Aitch / AJ Tracey / Tay Keith Rain
AJ Tracey ft Mostack Dinner Guest
Young T & Bugsey ft. Headie One Don't Rush
Headie One /AJ Tracey / Stormzy Ain't It Different
Dave ft. Burna Boy Location
AJ Tracey Ladbroke Grove
Tion Wayne / Dutchavelli / Stormzy I Dunno
Stormzy Vossi Bop
Chart 2: 2020 Official Top 10 UK Rap & Hip Hop albums   © Official Charts Company
Stormzy Heavy Is The Head
J Hus Big Conspiracy
Dave Psychodrama
KSI Dissimulation
D-Block Europe PTSD
M Huncho Huncholini the 1st
D-Block Europe Street Trauma
AJ Tracey AJ Tracey
J Hus Common Sense
Nines Crabs In A Bucket
Chart 3: 2020 Official Top 5 Rap & Hip Hop singles © Official Charts Company
Saint Jhn Roses
Stormzy/Ed Sheeran/Burna Boy Own It
Roddy Ricch The Box
Doja Cat Say So
S1mba ft. DTG Rover
Chart 4: 2020 Official Top 5 Rap & Hip Hop albums © Official Charts Company
Stormzy Heavy Is The Head
Pop Smoke Shoot For The Stars, Aim For The Moon
Eminem Music To Be Murdered By
Post Malone Hollywood's Bleeding
Juice Wrld Legends Never Die
A new analysis from the BPI – the UK association of independent and major record labels – reveals that the popularity of Rap and Hip Hop continued to soar in 2020.  More artists than ever from the genre are harnessing streaming to break through with tens and hundreds of millions of UK streams a year, and achieve mainstream success.
The BPI insights are based on Official Charts Company data and are taken from All About the Music 2021 – the 42nd edition of the BPI Yearbook, which is published today. This authoritative industry annual evaluates 2020 UK music consumption and trends.  It is free to BPI members but can be purchased here.
Titles classified as Rap and Hip Hop accounted for over a fifth (22%) of all UK singles consumption in 2020, including streamed tracks, while in the albums market share rose to 12.2%.  Both figures represent all-time peaks for the genre, thanks in part to the huge success of breakthrough British artists such as Headie One (who has a brace of BRITs 2021 nominations), Nines, and KSI as well as more established international stars.
Rap and Hip Hop's market share is now over six times greater than at the start of the Millennium
The analysis, compiled from both purchases and streams of albums and tracks, underlines the dynamic growth of Rap and Hip Hop in recent years.  The BPI's annual genre analysis began in the late 1990s, and in the final year of that decade Rap/Hip-hop's share of the singles market was just 3.6% – less than six times its current level.  Similarly the genre's share of the albums market in 1999 was a tiny 2.0%.
British talent accounted for over a third of Rap/Hip Hop UK singles consumption in 2020
Rap and Hip Hop's share of music consumption over the past two decades has waxed and waned, but it has now increased for six consecutive years in terms of singles streams and sales.  Underlining this positive trend, in 2020 seven of the year's 21 Official Charts No.1 singles were classified as Rap/Hip Hop, including tracks by Stormzy, Eminem and Cardi B.  British talent accounted for over a third (33.6%) of all the Rap/Hip hop singles consumption in 2020, with songs by breakthrough artists such as Aitch, Tion Wayne, Dutchavelli and DigDat among those making the top 10 of the Official Singles Chart.
Women artists are helping to drive the mainstream appeal of Rap and Hip Hop
The year in 2020 was also notable for the waves made by women artists – as well as appearing with Cardi B on WAP, Megan Thee Stallion enjoyed a top three hit with Savage, as did Doja Cat with Say So (which Beyoncé and Nicki Minaj guested on remixes of, respectively).  There were also a number of women making an impact in the UK Rap genre, with artists such as Bree Runway and Flohio tipped to have a big 2021.
A rising new wave of British talent is harnessing the reach of streaming to fuel Rap and Hip Hop growth
An ever-increasing number of domestic performers are now amassing huge streaming audiences.
While superstars such as Drake and Eminem have long been among the genre's most successful artists, here tracks by S1mba, AJ Tracey, Dave and Headie One all racked up more than 50 million plays in the UK alone in 2020.  All those artists – along with others such as Bugzy Malone, M Huncho and Young T & Bugsey – were among the upper echelon achieving over 100 million UK plays across their catalogues last year.
All of these artists have moved to Pop's centre ground in the past few years, thanks in part to the explosive growth in streaming alongside the broadening appeal of Rap and Hip Hop as part of music's mainstream.
Rap and Hip Hop is performing well in the albums market alongside its core strength with streamed tracks
Rap/Hip Hop's growth in the albums market has now been sustained for a sixth consecutive year.  In 2014 it accounted for just 2.7% of consumption but by 2020 it had reached an all-time-high of 12.2%.
The year in 2020 started off auspiciously with No.1 albums for Stormzy, Eminem and J Hus, and the chart-topping releases just kept coming, with Juice WRLD and Pop Smoke both reaching the summit with posthumous releases.  As in the singles market, artists from the UK enjoyed significant success: collectively their music comprised over a quarter (25.7%) of album sales and streams in the genre, with Official Chart No.1 achievements for artists including Nines and Headie One. The biggest-selling debut album of the year by a British artist was also a Rap release – KSI's Dissimulation, which reached No.2 in May, and there were top-10 placings on the Official Albums Chart for a number of domestic artists such as M Huncho, D-Block Europe and Skepta, Chip & Young Adz. 
Geoff Taylor, Chief Executive BPI & BRIT Awards, said:
"A glimpse of this year's BRITs nominees shows the extent to which Rap and Hip Hop now occupies music's centre ground. The genre has exploded in recent years, propelled by artists such as Stormzy, Dave and Little Simz, who are creating a new narrative for British music and are leading a rising wave of British talent that is harnessing the power of streaming to achieve chart success."
Jasmine Dotiwala, multimedia broadcaster and child of Hip Hop, said:
"In the 90s, when I started working as a young Hip hop fan and TV presenter, I was told that Rap and Hip Hop would be a fleeting genre not to be taken seriously, especially the UK sound. Now it's woven into the fabric of mainstream Pop culture – the power of Hip-hop and the influence of UK talent can be seen at every turn.
"Many of us have been privileged to have been allowed a seat at the table of Rap and Hip-hop culture by the Black community – the culture has given many people across various classes, ethnicities, locations and generations a career and chance to champion the music we love and enjoy. 
"To see how British Rap voices across cultures are soaring with success is something we always knew was possible, we just needed the internet and streaming services to galvanise the British Rap and Hip Hop movements' DIY ethos. To the musicians, their teams, the multiple media platforms, radio DJs, producers,  live events teams, music journalists, those who champion the music and culture relentlessly and the music lovers.... Congratulations!" 
Joseph 'JP' Patterson, EIC, Complex UK / Founder, TRENCH Magazine, said:
"To know how much Black British music has impacted the music industry at large is something that I couldn't be more proud of. From the days when Grime and UK Rap was an afterthought in mainstream spaces, to now being a driving force in the UK's musical landscape — it just goes to show that with great music and an even greater work ethic, the sky really is the limit. Dave, Stormzy, Ghetts, J Hus et al — some of our finest lyricists — are getting their flowers at the best point of their careers, and they deserve every last bit of it.
"We also shouldn't forget the importance of the Grime resurgence that took place in 2014 and lasted a few years because the work that Skepta, Novelist, AJ Tracey and more put in laid the foundation for a lot of the chart invasion/BRITs nominations that we're seeing today."
Cookie Pryce, Former Artist & Music Industry Professional, said: 
"I have been fully immersed in this thing called Rap/Hip Hop from the very early 80s and I for one have never been prouder of Black British Music and the direction that it is growing. I am as excited today as I was over three decades ago except now, we have transparency, and we have the data! Independence and authenticity have played a key part of this success; our artists (front of house) and executives (backstage), THEY have reclaimed the culture and pushed boundaries and are fearless of retaliation. We finally have superstars with fire in their souls!
"To me Rap & Hip Hop has always been the backbone to our great industry, something that everyone wants a piece of, and its popularity is no phenomenon, it's just pure genius in the way that it evolves and reinvents itself. Sign of the times and salute to everyone that's making this happen.  I am and will always be Hip Hop."