With National Album Day on the horizon we here at EntSight wanted to take a look at how UK music fans talk online about the format in order to understand how it is perceived by modern music audiences. For this research we used data from Twitter and Instagram from January to September 2018.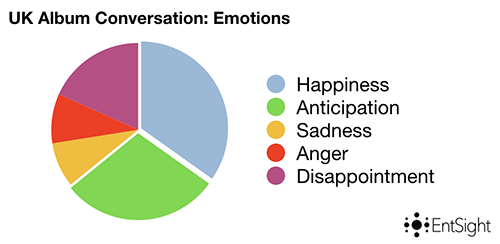 The first area we wanted to examine was UK audience's emotional response when talking about albums online - and it quickly became clear from the data that both Anticipation and Happiness were the most visible emotions here in response to artists album releases.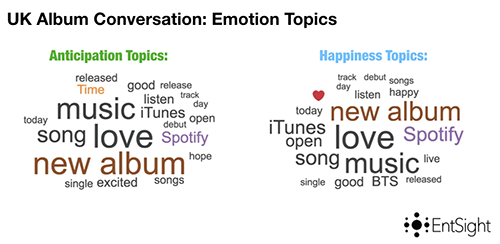 One of the main sources of these emotions was identified as conversations about new releases, as demonstrated in the topic clouds above. Music will always inspire strong emotions in audiences and the presence of keywords like 'love' and 'amazing' in these topic clouds confirms UK audiences love of the album is still going strong.
Platforms & Mediums
Streaming was by far the most talked about medium when it came to albums however, given that data was sourced from social media conversations it is hardly a surprise that digital formats see such prominence. Audience data from GlobalWebIndex indicates that Spotify and Apple Music/iTunes see the most usage amongst UK Music fans - and so we'd expect that albums are listened to on these platforms most actively too when it comes to music streaming.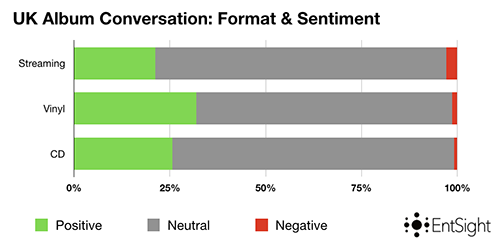 Sentiment analysis of conversation about the three key album formats confirmed that Vinyl saw more positive sentiment from UK music audiences - reflecting the interest in this format over recent years. This trend still seems to be going strong as far as UK audiences are concerned, with the #vinyl hashtag still seeing extensive use across social platforms.
Genre
Over the past few years EntSight have developed the means to identify music audiences favoured genres, based on the artists they are talking about online and so in order to understand interest in genres when it came to albums we put them to work here too.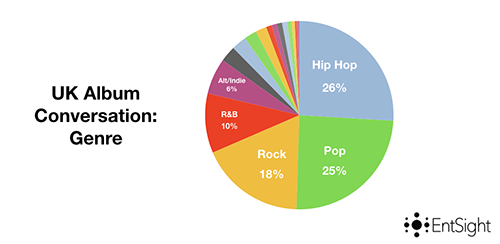 Analysis of UK music audiences' conversations about albums confirmed that Hip Hop, Pop and Rock saw by far the most interest from UK music audiences, with Alternative Rock/Indie and R&B seeing some noticeable interest too.
When we looked at how this genre conversation played out in relation to album formats Hip Hop remained prominent when it came to streaming services but less so in conversations about Vinyl and CD album formats, where both Rock and Alternative/Indie saw more interest from audiences. This reflects insight we've seen elsewhere that suggest current Hip Hop fans have less interest in vinyl, despite the genres deep roots in the format.
Demographics
It probably won't come as a huge surprise to see that in terms of vocation, the largest share talking about albums on social media were students. Although this may well be rubbing off on their Teachers and Lectures as they were the second largest group we identified.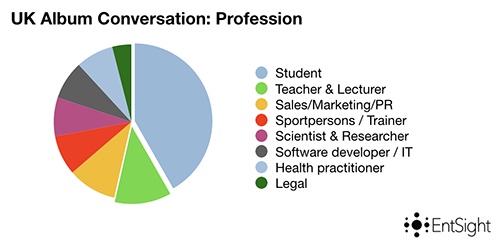 University towns such as Manchester, Glasgow, Leeds and Liverpool saw the large shares of conversation from these groups - and again much of this related to new album releases.
In terms of interest in albums when it came to gender there was a slight bias towards males, although females indicated a strong interest in Pop and R&B albums too.
The Future
One thing is certain from the data we analysed is that, with this amount of tangible excitement and positivity online from UK music audiences, the album has a bright future ahead. Even though mediums may change, the collection of artists tracks into a single cohesive work will remain and evolve just as it always has – and we can only wonder what new technologies will bring to the album experience.
Edward Bass is Founder and Director of EntSight, a global Audience Intelligence consultancy which specialises in Entertainment and Brands.