Edward Bass is Founder & Director of Brand & Entertainment Insights Consultancy EntSight and he wrote this guest blog on the relationship between music & brands.

Edward Bass is Founder & Director of Brand & Entertainment Insights Consultancy EntSight and he wrote this guest blog on the relationship between music & brands.

As every experienced music marketer knows, artists increasingly offer brands the unique opportunity to engage and drive awareness. However, the decisions made around brand partnerships are rooted too often in emotional choices rather than actual audience data and so over the last two years we here at EntSight have developed the means to identify and evaluate these more effectively - providing our services to global brands such a BMW, MINI, Bulgari and Tommy Hilfiger.
As a global leader in music, the UK is naturally a key market for artist focused brand partnerships and so for the benefit of BPI's members we'll share some vital insights here about how UK brand audiences interact with four key areas - Live Music, Artists Social Media, Music Discovery and App Usage.
Live Music 
Nothing beats live music for engaging audiences directly and so as a medium for a brand music partnership it's a hugely impactful choice. Using online panel data about UK brand audience music habits we reviewed how they favoured live music and our analysis confirmed that Alcohol, Luxury Fashion and Retail Food brand audiences indicated most that they regularly attended live music shows and festivals. 

However, deeper analysis of age groups also indicated that for the 16 - 24 year old age group, Luxury Fashion brand audiences were slightly less interested in live music compared to those of Alcohol, Retail Food, Airline and Automotive brands.

Artists Social Media
Naturally an artist's social media presence plays a prominent role in any brand music partnership and so understanding how audiences interact with these is vitally important when developing campaign strategies. 

We analysed which UK Brand audiences were most likely to follow artists, DJ's and bands on social media and identified that Sportswear and Retail food audiences were most prominent here.
Music Discovery 
Brand music partnerships can offer the opportunity for audiences to discover new artists and so understanding which groups are most keen on music discovery is key for this kind of activation.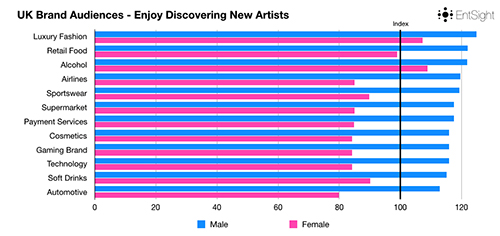 Analysis of male and female UK brand audiences who showed the most interest in discovering new music showed that males were keener across all brand categories, whilst female Alcohol and Luxury Fashion brand audiences had the most interest.  
App Usage 
Apps play a huge role in the life of the modern consumer and offer powerful platforms for driving engagement for both artists and brands.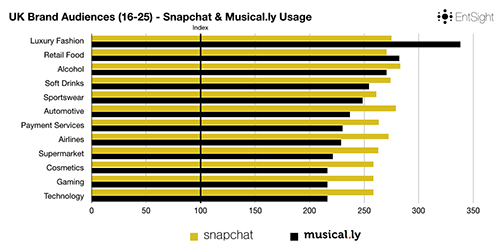 We analysed the 16 - 25 year old UK brand audiences of both Musical.ly and Snapchat to understand preferences and whilst it was clear than in both cases all audiences significantly over indexed, UK Luxury Fashion brand audiences had a significant preference for Musical.ly.
As is hopefully clear from the above, the more you know about the music behaviours of audiences the better positioned your activations and campaigns are to drive value from them. We hope these insights demonstrate just how powerful audience intelligence can be for informing brand music strategies and that these examples can help shape your own in the future.