BPI's yearbook All About The Music 2018 reports a 10.6% rise in recorded music revenues in 2017
Fastest rate of trade income growth since 1995, when Blur, Oasis & Pulp were exciting British fans
Growth boosted by the success of established British artists including Ed Sheeran, Little Mix and Sam Smith and major breakthroughs by exciting new artists led by Rag 'n' Bone Man, Dua Lipa & Stormzy
Revenues of £839m (generated via sales & streams of music and 'sync') see a return to 2010 levels
Increase is driven by a 45% leap in streaming subscriptions and continuing vinyl revival
However, sustained industry growth requires structural challenges to be overcome, warns BPI CEO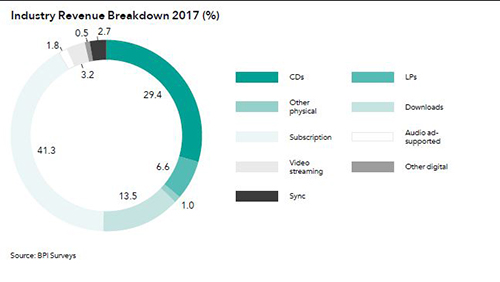 "All About The Music 2018" is out now.  It is free to all BPI members but can be purchased (in hard copy or in digital format) from the BPI's website: https://www.bpi.co.uk/shop/
" "The changes labels have made to their business models and their investment in new talent have borne fruit with rapid revenue growth in 2017. We are likely to see a continuing rise in 2018, with increasing awareness among consumers about the benefits of music streaming, and new developments that are likely to encourage the uptake of subscriptions, such as the launch of YouTube's premium music service and the growing popularity of smart speakers in the home."
Geoff Taylor, Chief Executive BPI & BRIT Awards
BPI's yearbook All About The Music 2018 reports a 10.6% rise in recorded music revenues in 2017
Fastest rate of trade income growth since 1995, when Blur, Oasis & Pulp were exciting British fans
Growth boosted by the success of established British artists including Ed Sheeran, Little Mix and Sam Smith and major breakthroughs by exciting new artists led by Rag 'n' Bone Man, Dua Lipa & Stormzy
Revenues of £839m (generated via sales & streams of music and 'sync') see a return to 2010 levels
Increase is driven by a 45% leap in streaming subscriptions and continuing vinyl revival
However, sustained industry growth requires structural challenges to be overcome, warns BPI CEO
Record labels association the BPI today publishes its annual yearbook: All About The Music 2018 – with the news that UK record company trade income (revenues generated through sales and streams across all music formats combined with earnings from 'sync') rose by 10.6 per cent in 2017 to stand at £839.4 million. 
This represents the fastest rate of growth since the height of Britpop in 1995, when revenues increased by 10.7 per cent.  However, it should be noted that total income remains nearly one third lower than the peak year of 2001, when it topped £1.2 billion.  The increase in 2017 was driven by a 9.5 per cent leap in music consumption, which the BPI reported earlier this year. 
Revenues from streaming grew by 41 per cent, and the format now makes up nearly half (46%) of industry turnover.  Subscription was the streaming channel that added the most to the overall increase, rising by 45 per cent to £346.9 million. Growth in ad-supported audio and video streaming was smaller, though between them they contributed £42 million to industry turnover. This figure should have been much higher, were it not for the continuing distortion in the market-place that allows some "user upload" platforms to pay much lower royalties than competing digital music survives. Government has pledged to end this "Value Gap".
Last year's growth was also driven by the success of British artists, both established, such as Ed Sheeran – whose album Divide was the most-consumed on all formats – Sam Smith and Little Mix, and more recent major breakthroughs, not least by Rag'n'Bone Man, whose debut album Human sold more than 1 million copies, alongside other exciting solo acts such as BRITs double winners Stormzy and Dua Lipa.
The increased income from sales of physical formats was less expected and is attributable to a number of factors – particularly the continued growth in vinyl LP income (+24%), which is now a fifth of the size of the CD market, and the impact of big-selling titles in boosting resilient demand for CD, including by Ed Sheeran, Rag'n'Bone Man and Michael Ball & Alfie Boe.
Geoff Taylor, Chief Executive BPI & BRIT Awards, said: "The changes labels have made to their business models and their investment in new talent have borne fruit with rapid revenue growth in 2017.  We are likely to see a continuing rise in 2018, with increasing awareness among consumers about the benefits of music streaming, and new developments that are likely to encourage the uptake of subscriptions, such as the launch of YouTube's premium music service and the growing popularity of smart speakers in the home.
"While these are reasons for optimism, music still has a long way to go to recover fully and achieve long-term sustainable growth. In particular, Government action is needed to remedy the continuing "Value Gap", so that all digital platforms pay fairly for their use of music, and with the transition period following Brexit now agreed, it is vital that British musicians can tour freely in the EU once we leave. In addition we urge Government to seize the opportunity of its Digital Charter to forge an online environment that is safe for consumers, where illegal sites cannot flourish, and to look at new incentives for investment so that the UK is the best place in the world to invest in creating music. These measures are essential given the increasing competition the UK faces in a more global streaming market."
"All About The Music 2018" is out now.  It is free to all BPI members but can be purchased (in hard copy or in digital format) from the BPI's website: https://www.bpi.co.uk/shop/
This annual BPI yearbook, now in its 39th edition and with an introduction by BPI CEO Geoff Taylor, gives a detailed insight into the year in UK recorded music in 2017 through facts, figures and analysis. It fully evaluates music consumption and trends, with chapters covering sales, market breakdowns, consumer behaviour, retailing and how British music is performing in the world market, along with many other insights.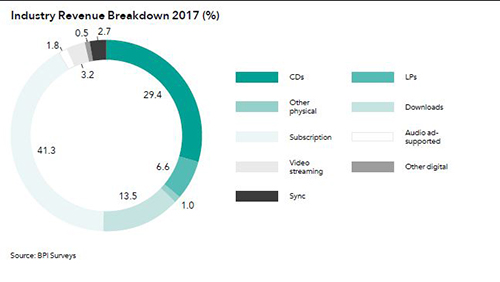 "All About The Music 2018" is out now.  It is free to all BPI members but can be purchased (in hard copy or in digital format) from the BPI's website: https://www.bpi.co.uk/shop/
" "The changes labels have made to their business models and their investment in new talent have borne fruit with rapid revenue growth in 2017. We are likely to see a continuing rise in 2018, with increasing awareness among consumers about the benefits of music streaming, and new developments that are likely to encourage the uptake of subscriptions, such as the launch of YouTube's premium music service and the growing popularity of smart speakers in the home."
Geoff Taylor, Chief Executive BPI & BRIT Awards