AIM, BPI, MPA, PPL & PRS for Music partner with DIT and Music is GREAT to promote British music exports at Europe's leading business event for the international music industry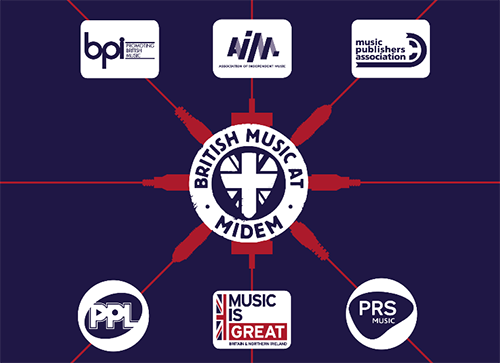 "British Music has become the UK's global calling card, and in a changing and uncertain international landscape where our Government is required to forge new trading relationships, it's important to attend major networking events if our industry is to effectively promote its talented artists and the labels that invest in them even more widely, connect with new audiences and develop key new markets overseas. The BPI has attended every Midem since our organisation came into being in 1973, and we look forward to fully participating in another fruitful event this year."
Chris Tams, Director of Membership & International, BPI & BRIT Awards
AIM, BPI, MPA, PPL & PRS for Music partner with DIT and Music is GREAT to promote British music exports at Europe's leading business event for the international music industry
Each year the global music community congregates in Cannes, France to attend Midem – the world's leading international B2B event dedicated to the new music ecosystem.  This year's event (5–8 June) at the Palais des Festivals will play host to over 1,000 exhibiting companies and 25 pavilions from over 80 countries. It will be led by a major international tradeshow as well as conferences, networking events and artist performances.
British Music at Midem stand
The UK Government and British music will again be there in force through the British Music at Midem stand: DIT (Department for International Trade) is partnering with music associations AIM (Association of Independent Music), BPI (British Phonographic Industry), MPA (Music Publishers Association), PPL (Phonographic Performance Limited) and PRS for Music. They will support over 120 UK music businesses and member delegates as they seek to connect with international companies, sign deals and develop trading and music export opportunities.  Please see Notes for Editors for further details. In the run up to Midem 2018, DIT has released a thought leadership paper that explores the latest trends and innovations in British music and profiles 15 ambitious startups. Copies of the whitepaper will be available both online and at the UK stand at Midem.
Music is GREAT presents British Music Night
Reinforcing the British music presence at Midem this year Music is GREAT, the Government's campaign to promote UK music exports, will present British Music Night – showcasing the best of new and emerging British musical talent on the Sunset Stage at Midem Beach, Palais des Festivals, with Wildwood Kin, Nina Nesbitt and Tokio Myers headlining the slot. 
The UK punches above its weight
The UK is the world's fourth-largest market for recorded music, although the largest exporter of music after the US.  In 2017 its talented artists, led by the likes of Ed Sheeran, Stormzy, Rag'n'Bone Man, Sam Smith, Dua Lipa and Little Mix accounted for one in every eight albums sold worldwide, including the year's global best-seller – Ed Sheeran's Divide.  The vibrant independent music scene also plays its full part, with indie labels accounting for 22% of UK album purchases, while 12.5 million music tourists boosted the UK Economy by as much as £4.0 billion in 2016 according to UK Music's Wish You Were Here annual report.
Music exports matter to the UK
Fans around the world love British artists, helping to make music Britain's international calling card. UK artist's share of album sales increased in both France and Germany in 2017, while remaining at around 12% in the USA.  As the UK looks to forge new international trade relationships, British music has a potentially important part to play – boosting exports and jobs, and helping to promote Brand Britain and British cultural identity globally.
UK record labels and publishers help to foster this global success through innovation and investment, backing great new music and artists with around a quarter of their revenues in A&R and the same again in marketing and promotion. At the same time the UK helps to create an environment in which international trade can thrive, such as through overseas missions and funding to promote exports.  DIT and GREAT, for example, support the Music Exports Growth Scheme (MEGS) in partnership with the BPI and the PRS Foundation for Music 'Showcase' scheme, whilst also extending other support to UK music companies.
Paul Pacifico, Chief Executive, AIM, said: "A number of our members at AIM have gone from asking whether or not there is still a viable music market to now focusing on the new market and how to make it work for them. A big part of our job at AIM is to help support independent music companies, whether established labels, digital distributors or artists managing their own releases in understanding the market and how to grow their businesses within it. Midem is a great place to come together with friends and colleagues from across the globe to discuss key industry issues, meet new people, hear what is happening next and get that wider perspective."
Chris Tams, Director of Membership & International, BPI & BRIT Awards, said: "British Music has become the UK's global calling card, and in a changing and uncertain international landscape where our Government is required to forge new trading relationships, it's important to attend major networking events if our industry is to effectively promote its talented artists and the labels that invest in them even more widely, connect with new audiences and develop key new markets overseas. The BPI has attended every Midem since our organisation came into being in 1973, and we look forward to fully participating in another fruitful event this year."
Jane Dyball, CEO MPA Group Companies, said: "Once again the UK music publishing community heads off to Cannes to discuss the issues of the day, meet old and new friends, find or catch up with sub-publishers and meet licensees. Midem remains a key date in our diaries and one the MPA and our members very much look forward to."
Peter Leathem, Chief Executive of PPL, said: "Midem is an important event in the music industry's calendar and we are delighted to be able to return in 2018 with our partners at AIM, BPI, the MPA and PRS for Music.  We are also excited to see the return of a British music showcase as part of the British Music Partnership, giving UK talent the chance to perform overseas.  Midem provides PPL with a valuable platform to strengthen our relationships with global partners as our international division continues to grow with 87 international collection agreements now in place."
Nigel Elderton, PRS for Music Chairman, said: "As a partner of the British at Midem stand, all of us at PRS for Music are looking forward to Midem, where we will be flying the flag for great British music as it continues to achieve extraordinary success on the global stage. The music industry is a people business and Midem is one of the biggest and best occasions for those people to come together, so it is a delight to be playing an important role supporting songwriters, composers and publishers at this year's event."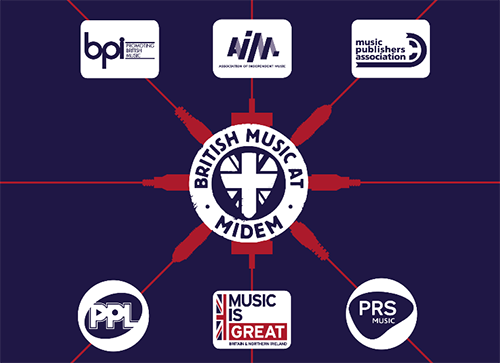 "British Music has become the UK's global calling card, and in a changing and uncertain international landscape where our Government is required to forge new trading relationships, it's important to attend major networking events if our industry is to effectively promote its talented artists and the labels that invest in them even more widely, connect with new audiences and develop key new markets overseas. The BPI has attended every Midem since our organisation came into being in 1973, and we look forward to fully participating in another fruitful event this year."
Chris Tams, Director of Membership & International, BPI & BRIT Awards