We, of course, continue to have issues we look to Government to help us with. The most important of these is the value gap.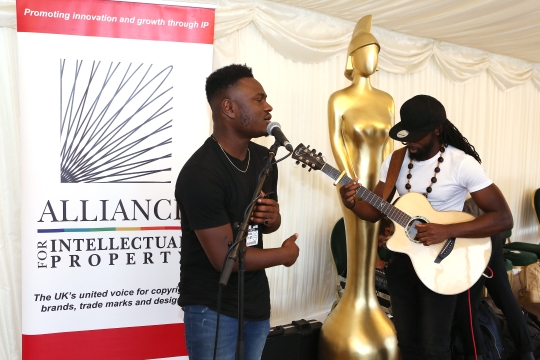 Moelogo performing at the Alliance for IP Summer Reception at the House of Commons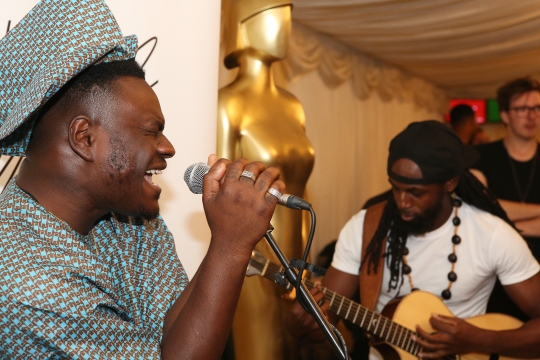 We, of course, continue to have issues we look to Government to help us with. The most important of these is the value gap.
UK record labels association the BPI was delighted to attend the Alliance for Intellectual Property's Summer Reception yesterday evening (11th July).
The member event was hosted by Pete Wishart MP – Chair of the All Party Parliamentary Group for Intellectual Property – and was held at the House of Commons Terrace Marquee in Westminster.
The BPI sponsored the reception alongside the Premier League and British Brands Group, and the keynote address was delivered by the Rt Hon Karen Bradley MP, Secretary of State for Digital, Culture, Media and Sport.   Other notable attendees included Matt Hancock MP, Minister for Digital, Culture, Media and Sport, and the Rt Hon John Whittingdale OBE MP, who was presented with a special award for his Outstanding Contribution to IP.
The reception featured entertaining performances from two exciting new artists: South Wales musician George Glew and R&B talent Moelogo – a recent beneficiary of the Government-funded Music Export Growth Scheme, which is administered by the BPI.
The two acts were introduced by the BPI's Director of Public affairs, Ian Moss, who also commented on the remarkable success of British music, achieved in large measure through the innovation, investment and risk taking of its label members.  Ian also pointed out that important issues must still be addressed if growth is to be sustained into the long-term, not least You Tube's 'Value Gap'.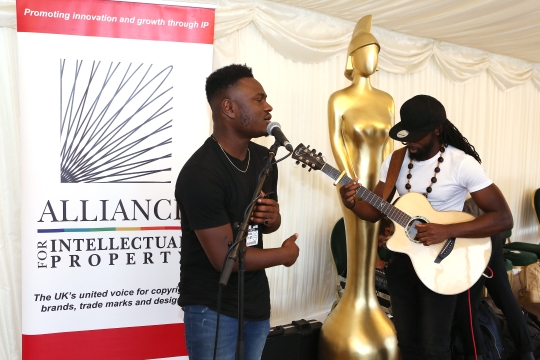 Moelogo performing at the Alliance for IP Summer Reception at the House of Commons
Full Speech
BPI Public Affairs Director, Ian Moss, introducing live performances by George Glew & Moelogo:
The BPI represents the recorded music industry – 3 major record labels and over 400 independent labels – the risk finance behind the global success story that is the British Music Industry. The record labels put 50% of their revenues every year back into discovering and marketing new music and in bringing new artists to the public.
And we do this spectacularly well – in 9 out of the last 12 years the biggest selling artist in the world has been British and 1 in every 8 records sold in the world are British. Stars such as Ed Sheeran and Adele are dominating the charts worldwide. This year is already looking good for British music and the great innovation in UK music continues, with the new stars of grime such as Stormzy, Kano and Skepta breaking through to world audiences.
We have embraced digital with dynamic new services that consumers love whilst still maintaining a healthy physical market, through the resilient CDs format and a big resurgence in vinyl with that format almost doubling in revenues last year as part of growth in the UK industry of over 5% last year.
We, of course, continue to have issues we look to Government to help us with. The most important of these is the value gap.  The most popular content on YouTube is music videos, all of the top 10 and 23 of the top 25 most watched videos of all time are music videos.
But user uploaded video services such as YouTube paid only a fraction of the fees paid by services such as Spotify and Apple.  We got almost double what we get from YouTube from sale of vinyl records in 2016.
This is because User Upload Services such as YouTube make use of the Safe Harbour regulation in European Law that says they are not liable for content uploaded to their platform and do not need a licence. In 2016 we estimate there were about 25 billion music videos streamed in the UK but our revenues were only £24m compared to 10 times that from licenced audio streaming services. This loophole needs to be fixed to ensure a fair and healthy digital market.
It is in that context that we also look forward to the proposals for a Digital Charter, which should be a vehicle to ensure that online platforms and intermediaries help reduce criminality online. We are working together with Government and the search engines to help resolve some longstanding issues on listing of illegal sites, with ISPs on use of file sharing networks and with the ad and payment provider industries over funding illegal sites.  This kind of co-operation is essential to build a healthy, thriving digital economy.
I should also thank Government for the support it has given so far for the campaign "Get it Right from a Genuine Site" which is helping consumers understand the importance of rewarding the time and effort put into creating the content they love whilst providing greater insight into the work behind the scenes in the creative industry. We hope this can continue as it is getting great results.
But let's focus now on the product of our industry – the music. We have two artists for you to hear from this evening.
First, we have for George Glew. George is 24 years old. Born and raised in South Wales. Now residing in Bristol, George cut his teeth in a variety of local bands before going it alone crafting his self-produced sound influenced by the likes of Bon Iver, John Mayer and Jimi Hendrix. His debut single 'Bury Me' will be released on July 14th via Atomizer Records. 
The Government has recently supported BPI to help award small sums of money to help top up investment from music companies to create additional exposure abroad. The Music Export Growth Scheme is very popular and is already earning 10 times the investment from Government in export revenues.  To date over £2m has been awarded to around 150 mainly indie-label-signed artists in small grants.
Originally from Nigeria, Moelogo is a London-based artist infusing R&B and Reggae, who is generating a lot of excitement, and is one of this year's recipients. Here's Moelogo.